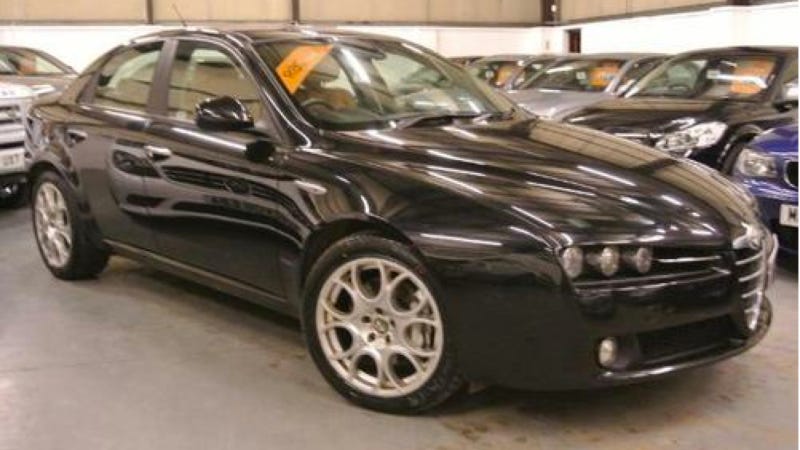 Welcome to Used Car Face Off, where we find two similar or similarly priced used cars and ask you which one you would buy. Choose wisely!
Think of this as Used Car Face Off International, like House Hunters International without the talk about appliances. This week, I've been perusing around eBay Motors' UK site looking for cars that never made it onto our shores but that I've always kind of liked. Doing these posts is always the product of me wasting time looking at cars to buy, so it's kind of painful spending a ton of time looking at cars I can't exactly buy, pick up and drive home in.
Nevertheless, I've picked out two cars that were never available new in the States and both of which I hope to have a go in someday. But today, I have to pick one.
Since I was on the UK site, naturally, I looked at a Rover. The Rover 75 reminds me of a car Buick would build today, minus all of the retro touches. It has no sporting pretentions, but it looks like a genuinely nice car. This though, is not the normal, front-wheel drive 75, but a rear-wheel drive V8 model – the 75 260.
In 2004, MG Rover took the 75 (developed when the company was owned by BMW) and decided to turn it into a 5-series competitor by making it rear-wheel drive and sticking a V8 in the front of what looked like a car your doctor would drive. That V8, interestingly enough, is the same 4.6, 260 horsepower unit that Ford put in the Mustang of the same era. And I like the idea of putting that engine in a car that otherwise looks upstanding and civilized – until it's doing some slides.
There's just one big problem here. This 260 has what has to be a contender for the worst paint jobs ever. It's a custom-ish one, too, provided by MG Rover's "Monogram" service that also allowed the original owner to forego full leather for black/gray leather and Alcantara. But the outside is just this awful "Poseidon Chromatic Blue / Green." Still, this is a rare and interesting car, because it's an MG Rover with BMW electronics and a Ford engine and made just a year before the company went belly-up. Maybe I could get past the paint. What would also be depressing is the way it drives. Based on this review from Evo, it's got soggy brakes and a dim-witted transmission that smothers the power. But this isn't supposed to be a bruiser, it's a lazy V8 cruiser that sounds like it would suit America. Shame it never got here.
But on the opposite side is this perfectly styled 2007 Alfa Romeo 159. This car needs no explanation for the way it looks, because it's so well detailed. From the headlights to the wedgy shape and the really nice dashboard, it's a pretty thing. Underneath, it's a platform co-developed with Saab that was supposed to underpin a 9-5 until GM's penny pinching fingers canned it. But the Alfa gets four-wheel drive and a 3.2-liter V6 here, mated to a six-speed manual. Sounds like an Audi, but cooler.
Downsides? A few. First of all, it's an Alfa with lots of electronic gizmos and I think I'm within my rights to be highly suspect of the reliability of them. Second, even though it has about the same horsepower as the Rover, it's carting around a not-so-light 3,400 pounds of mass. This Autocar review from 2006 suggests it's not as light-footed as one would expect an Alfa to be. Judging by the review, it sounds like piloting an old Volvo.
I don't mind that so much, so I'd have the 159. I love the Rover 75 260, but not this particular one – it's that damn color. And I won't deny that the Alfa's looks sway me in this matchup, even if the one I'd hunt down would have the 1750 TBi boosted four-pot.
Do you Americans lust after a cheap 159 or Rover, or should we consider ourselves lucky that we never got these cars? Sound off.