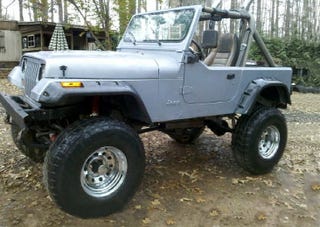 While there's nothing more American than a Jeep, diesel engines seem more the predilection of our funny talkin' friends overseas. Today's Nice Price or Crack Pipe Wrangler attempts to link those worlds, but is its price a bridge too far?
In the Mission Impossible movies the protagonists frequently pulled off their schemes with the help of elaborate disguises. Embarrassingly, it took but the addition of a big boy bed to make me forget that yesterday's Mid Engine'd S-10 had graced NPOCP once prior. With an 80% Crack Pipe loss in the current vote, the seller may find his sales mission to be dauntingly impossible, disguise or not.
The details of Rudolf Diesel's almost century-old death will forever be shrouded in mystery, but it seems likely that his plunge from deck of the SS Dresden into the icy English Channel was a suicide brought on by financial woes. That's a darn shame, but his eponymous compression ignition engine does live on, and in fact does so in 6.2-litre Detroit Diesel form under the hood of this 1991 Jeep Wrangler.
As you may recall, this model of Jeep - the YJ - replaced the hard as nails CJ back in 1987. The new model offered a wider track, bigger windshield, and better handling than its near-military grade predecessor. It also was the only edition of the iconic model to sport rectangular headlamps, which I think we all can agree are wrong.
Engine choices for the 1991 YJ were twofold - the 2.5-litre four and 112-bhp 4.0 six. Neither is now in residence in this example however, having stepped aside in favor of a 6.2-litre Detroit Diesel V8. These engines were built between 1983 and 1992, during which time they served in a variety of GM products including the C/K pickups, Chevy vans, as well as the AM General H1. At 130 to 143-bhp they aren't known as powerhouses, but aside from some early issues with blown head gaskets and a dislike for long periods left idling, they aren't known for being especially problematic.
This one is claimed to have but 50,000 miles under its belt, and is partnered with a GM-sourced five-speed stick. Dana 44s do axle duty and upon the ends of those are massive 37-inch tires that may mean ingress to to the truck requires a running start. Once there, you might want to have a look at the combo wiper/turn signal switch which the ad claims to be broken. That alone seems to be this truck's admitted foible.
The key feature noted in the ad however - the cherry atop its off-road sundae so to speak - is the pair of exhaust stacks poking through the floor just aft of the high-back buckets. There's no companion intake snorkel so fording rivers at chin depth still isn't an option, but if you want to play Trucks and Trailers without a computer, this may give you an acceptable taste.
As we noted, it could have been a lack of fundage that drove Rudy Diesel to leap to his watery grave- literally, after rolling him for anything of value, the ship that found his body threw him back in the drink like an undersized fish! Were he alive today that paucity of pocketbook may have meant he wouldn't be able to afford the $8,000 price tag of the Jeep ironically carrying his engine under its hood.
That may not be an issue for other less inventive but more financially sound individuals, and it's now time for you to offer those folks some help in determining, not if they could, but if they should. What do you think about eight grand for this diesel Jeep, is that a price worth jumping for joy over? Or, does that price make you want to tell the seller to take a flying leap?
You decide!
Atlanta Craigslist or go here if the ad disappears.
H/T to Jason Barnwell for the hookup!
Help me out with NPOCP. Click here to send a me a fixed-price tip, and remember to include your commenter handle