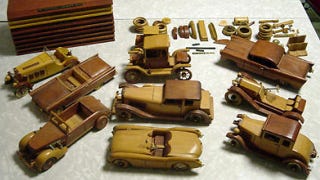 If you believe what I read on eBay, an organization called the Vintage Car Club of America sold wooden models of awesome cars decades ago.
Although there no longer appears to be a VCC of A or associated wooden models for sale new, someone's selling used 1:24 scale wooden cars on eBay.
There's one thing you should know, though. They're all broken and missing parts, just like a row of rusted out hulks at a junkyard. The seller claims that some old guy put them together back in the '80s, and that the cars were then damaged when the box they were stored in was moved around from time to time.
Now, you can buy this miniature wooden salvage yard, which contains 10 cars in all, and fix them yourself. The collection contains wooden models of a 1931 Dusenberg J, a 1912 Ford Model T, a 1955 Ford Thunderbird, a 1957 Chevrolet, two 1929 Ford Model As, a 1929 Mercedes, a 1937 Cord 812, a 1913 Stutz Bearcat, and a 1953 Chevrolet Corvette.
Think you can take on a 10-car restoration? (Hat tip to David!)
Photo credit: eBay