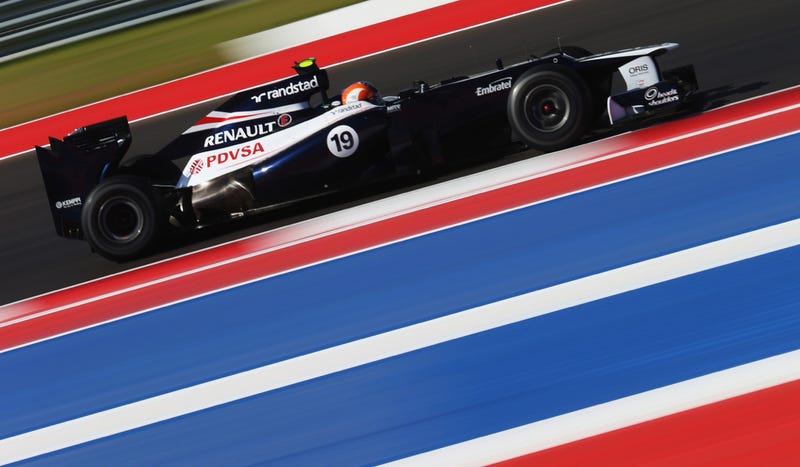 Drivers and fans alike here in Austin have said that the Circuit of the Americas has lived up to the hype as one of the best race courses in the world.
But racing on a track that's brand new has its challenges. In particular, drivers did encounter some issues in the area of grip during Friday's practice sessions. This is certainly to be expected because the track is so green, but it did catch a few people by surprise.
Here's what Toro Rosso driver told Crash.net:
"The new track lived up to the expectations we had before coming here, although the lack of grip spoilt it a little bit," he said. "But as the track rubbers-in and cleans up, I'm sure it will get even better. The grip level did improve from morning to afternoon but I'd expected a bit more. In fact I reckon next year, we could find a completely different circuit, although by this Sunday I think it will be much more fun."
A few of the cars spun out around Turn 19. Michael Schumacher told this to Autoweek:
Technically, it was quite a difficult day, because this morning there was no grip at all, but I'd say we maybe look a little bit better than at the previous grand prix. We saw some interesting things on the data today and I am sure we can have an okay day tomorrow."
Also, from Autoweek, Toro Rosso Chief Engineer Laurent Mekies:
It's been very enjoyable for everyone to tackle this new challenge for the first time today, even if grip level gave everyone a bit of a surprise to start with! It's normal for a new track to have low grip, but this was beyond what we had expected, however by the end of the day, the situation had improved and we were able to carry out our normal program to validate the car set-ups and configurations we had calculated before coming here.
Is this a problem that is unique to the Circuit of the Americas? Absolutely not. Any new track will have a lack of grip because very little rubber has been laid into the asphalt. Some more should be added to the course by the F1 practice and qualifying rounds, plus the support races over the weekend (the Historic Grand Prix, the Ferrari Challenge, etc.) although presumably their lines will be different.
It should be fun to see how the drivers adapt to this during today's qualifying and tomorrow's race. It's certainly shaping up to be an exciting race for many reasons.
Photo credit Getty Images