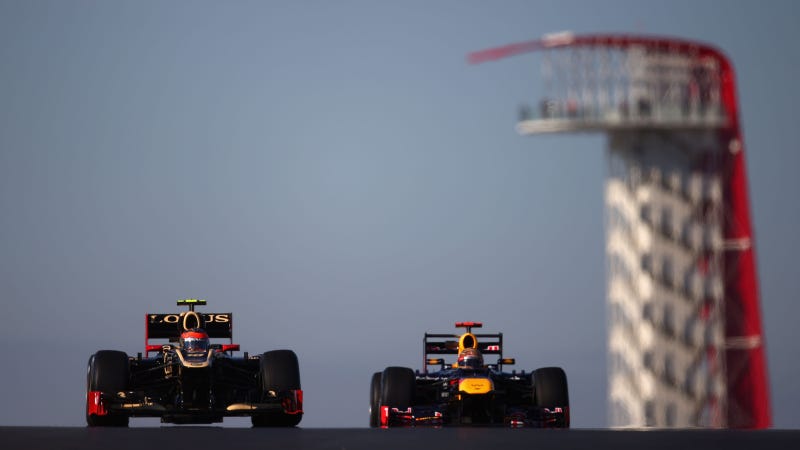 Welcome to the Jalopnik Weekend Motorsports Roundup, where we let you know what's going on in the world of racing, where you can see it, and talk about it all in one convenient place. Where else would you want to spend your weekend?
This weekend, at long last, Formula One makes its triumphant return to the United States. We're pretty thrilled about that, and we'll be covering the festivities at the Circuit of the Americas all weekend.
Besides F1, NASCAR will be in Homestead, Florida, so expect some hot action there too.
There's also the Macau Grand Prix, which is not on TV in the U.S. Does anyone have a good livestream? If so, share it with us, please.
As always, let us know if we missed anything in the comments below.
Photo credit Getty Images
All times Eastern.
Saturday, Nov. 17
United States Grand Prix Practice
Circuit of the Americas
Austin, Texas
10 a.m. on SPEED
NASCAR Nationwide Series Ford EcoBoost 300 Qualifying
Homestead-Miami Speedway
Homestead, Florida
11:30 a.m. on SPEED
MX-5 Cup at Petit LeMans
Road Atlanta
Braselton, Georgia
12 p.m. on Velocity
(Race from Oct. 19)
United States Grand Prix Qualifying
Circuit of the Americas
Austin, Texas
1 p.m. on SPEED
NASCAR Sprint Cup Series Ford EcoBoost 400 Final Practice
Homestead-Miami Speedway
Homestead, Florida
3 p.m. on SPEED
NASCAR Nationwide Series Ford EcoBoost 300 Race
Homestead-Miami Speedway
Homestead, Florida
4:30 p.m. on ESPN
Sunday, Nov. 18
NASCAR Sprint Cup Series Ford EcoBoost 400 Race
Homestead-Miami Speedway
Homestead, Florida
3 p.m. on ESPN
United States Grand Prix Race
Circuit of the Americas
Austin, Texas
1:30 p.m. on SPEED