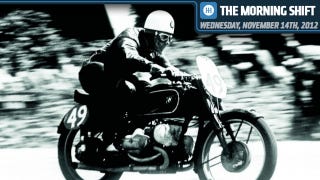 This is the Morning Shift, our one-stop daily roundup of all the auto news that's actually important — all in one place at 9:00 AM. Or, you could spend all day waiting for other sites to parcel it out to you one story at a time. Isn't your time more important?
---
1st Gear: GM, Peugeot Call A Halt To Tie-Up Talks
Reuters says General Motors and PSA Group, the parent of Peugeot, have called a time-out in negotiations that could have led to a closer association. The reason was a bailout that PSA is receiving from the French government, and GM's misgivings about the company's worsening finances. Reuters also quotes sources as saying the two sides were exploring a full merger between Peugeot and Opel, but that's now off the table. Reuters says any deeper ties between the two will have to wait until 2014, when analysts think the market will get better. One complexity is that the bailout essentially blocks any job cuts in France, and it would be "politically impossible" for all the cuts to fall on the German side of the deal.
The cooling off comes after GM and Peugeot had already announced that they planned to team up to develop a series of vehicles, but Peugeot is burning through $200 million in cash per month. If things get much worse, GM may have to shoulder most of the burden for joint development, which might not sit well with the Treasury Department. GM has already spent $400 million for a 7 percent stake in the carmaker. Also, French politicians might want a say in what happens at Peugeot, given the government's help, and that's another problem for Peugeot, which is family owned. So, taking a break from deeper involvement seems like a smart move. Divorces are expensive, as GM found out when it did its deal with Fiat.
---
2nd Gear: Pssssst! Want To Buy Some Automotive Debt?
Bloomberg reports that Ford is leading a series of companies that are selling debt backed by auto loans. It's offering $1.08 billion in asset backed debt, part of $5.2 billion in such loans that it's sold this year, according to Bloomberg. That's twice as much asset backed debt as Ford sold last year. GM Financial is also in the game, with $1 billion in asset-backed debt for sale. This is a good sign for the industry, because if investors didn't think the debt was backed by something trustworthy, the companies wouldn't be able to sell it. This debt sells at a premium to Treasury bonds, but the spread (the difference between the two) is smaller than it was at the end of last year. Of course, nobody wants the car companies to be saddled by too much debt, but the fact that buyers are interested and the spread has narrowed are encouraging signs.
---
3rd Gear: BMW Has A Boxer In Its Drawer
BMW says it's planning to mark the 90th anniversary of Motorrad next year by introducing a new retro bike. BMW Motorrad President Stephen Shaller said the bike will have an air-cooled 'boxer' engine, paying homage to the very first BMW motorcycle in 1913. Back then, the BMW R 32 provided the DNA for what would become the BMW Motorrad boxer series over nine decades. It featured an air-cooled, 2-cylinder 4-stroke 'boxer' engine with a longitudinally mounted crankshaft and shaft drive to the rear wheel. BMW will announce the model designation and the market launch date down the road. The bike in the sketch released by BMW may bring to mind the motorcycles of the 1960s, and BMW is joining a retro-motorcycle trend that other companies are capitalizing upon.
---
4th Gear: Choir In The Chrysler Ad Is Rocking
The Detroit Free Press reports that the choir that appeared in Chrysler's 2011 Super Bowl ad featuring Eminem has turned into gospel stars. The Selected of God choir has gone from performing half a dozen times a year to 60 performances. They have a new album out, and Chrysler has become a sponsor. The choir will appear in a new Chrysler ad, "Big Finish," that's set to air for two months. And, Chrysler paid for the choir to produce a separate video in which it performs Eminem's "Lose Yourself" that has been viewed more than half a million times on YouTube. "The fact that on a corporate level they want to support something like a gospel choir? I have never seen it. I have never seen it with a car company," said Joel Martin, executive producer of the choir's album.
---
5th Gear: 2014 Subaru Forester: Around The Block
The Subaru Forester has long been the vehicle of choice for outdoorsy people, competent, no-nonsense lesbians, and Vermonters (not to be confused with Vermonsters, a colossal tub of ice cream incapable of purchasing a car), and I don't think that's going to change with the new 2014 model. More »
---
Reverse: Happy Birthday, Prince Charles Philip Arthur George
Today, we wish a happy 64th birthday to England's Prince Charles, a life-long car buff. Through the years, he's been as closely associated with all the classic British car marques, especially Aston Martin. That was Charles' 1972 Volante in which William and Kate drove away to start their marriage last year. Charles' main car is a Jaguar XJ, according to Clarence House, and he's converted his jags, Audis and Range Rover to run on biodiesel. Even the Volante runs on bioethanol made from wine waste. So, happy birthday, sir, and rev it up to the red zone. [SkyNews]
Neutral
In keeping with our new discussion system, here's a place for you to own the floor. We're asking each day what you think about an issue that comes up in TMS.
Do you ride motorcycles? What do you think of the anniversary BMW boxer? Do any of the retro bikes appeal to you? Remember there's no right answer or wrong answer. It's Neutral.
Got tips for our editors? Want to anonymously dish some dirt on a competitor? Know something about a secret car? Email us at tips@jalopnik.com.
Click here for the Opposite Lock or Tips forums. Want a more "blog-like" look? Click the button up top next to "Top Stories."
Want even more Jalopnik? Want to know which of your friends read us? "Like" us on Facebook, follow us on Twitter, and subscribe to our newsletter.