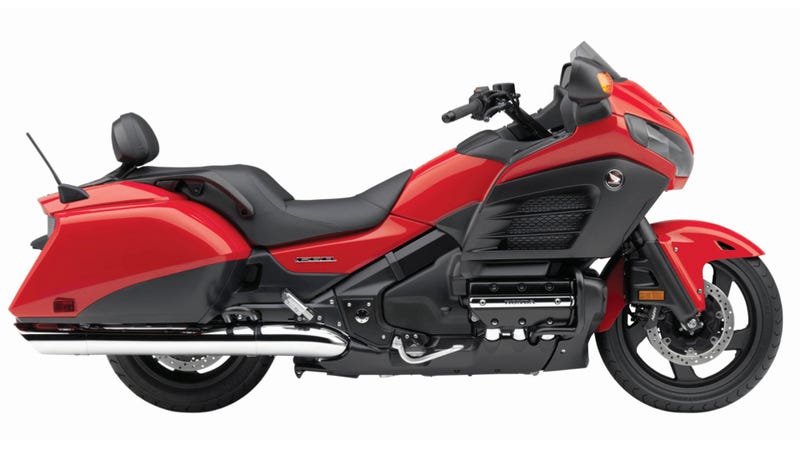 Superbikes and big, Harley-style cruisers are both badass in their own way, but there's also something to be said for retro. Along with the Big Three, Triumph and others, Honda appears to have jumped on the retro styling bandwagon.
They're introducing the Gold Wing F6B — a barebones version of the more chromey top-of-the-line Gold Wing — and the CB1100, a stripped down street bike that looks a lot like the Honda CBs so popular amongst the 1970s cafe racer crowd.
Honda built Gold Wings at their Marysville, Ohio plant from 1979 to 2009, but the new ones will be manufactured in Japan using tooling carted over from the Buckeye State. It keeps the same massive fuel injected 1832 cc flat six seen in earlier models, but the F6B has modified fairings, with blacked out trim and swooping lines not unlike those on late '40s Buick fastbacks.
Honda's CB1100 isn't the first to bring back the classic bike look — the Bonneville is still a prominent member of Triumph's lineup. But we're glad to see it back. Fairings are good for performance, but those old sport bikes recall an era when riding sleeveless and helmetless (which we know from experience is a bad idea) while smoking were acceptable expressions of manliness. Hell, maybe they still are in some places, but you just can't pull that off on a crotch rocket.
But unlike those old bikes, the new CB's 1140 cc DOHC air-cooled engine doesn't have four carburetors that need to be synched up every couple of months. They're fuel injected, because four carburetors is likely the reason why, back in the '70s, people rode half naked while smoking unfiltered cigarettes. If you've ever had to mess with a setup like that (I have, it's terrible), you know that it will drive you insane.
Photo credit: Honda