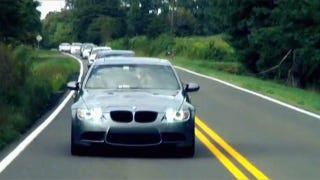 The mountainous roads surrounding Virginia's Shenandoah Valley aren't the world's most treacherous, but they are fun to drive, and they're easy to get to from Washington, D.C. So it's not all that surprising that car enthusiasts from the D.C. area's teeming, affluent suburbs occasionally make their way down there.
It should be even less of a shock that some of those exuberant car junkies have a tendency to drive fast. That's what happened on Sunday morning when police in Highland and Augusta Counties stopped 15 sports cars and charged the drivers with speeding and reckless driving. All of the cars were towed, and footage from the cameras confiscated from the towed cars is being used as evidence.
A spokesman from the Augusta County Sheriff's office told us that the group included several BMW M3s, a couple of Lexus coupés, a new Ford Mustang, and even a McLaren. Police allowed the drivers of some of the cars — the ones with low clearance and ground effects — to follow their tow trucks to the impound yard to avoid damage. The spokesman said all of them have payed the towing and impound fees and retrieved their cars.
The spokesman also said that the group was part of a car club associated with Mischief.tv, which organized a group drive along Shenandoah National Park's Skyline Drive over the summer.
"Some of the people involved in this [event] were involved in street racing in the past," he said.
The Virginia State Police trooper who delivered a lecture to the group at the end of the video seemed less than impressed with that event. Apparently, busting a U-turn in the middle of a two lane road when you see cops ahead is a bad idea. Who knew?
Video will play a big role in the legal proceedings against the 15 charged on Sunday. The Augusta County Sheriff's Office is using footage from the towed cars' GoPro cameras as additional evidence, which the spokesperson said will likely mean extra charges for a few of the people already facing reckless driving charges. He said after they have been to court — which is scheduled for Jan. 3 — the Sheriff's Office will release the video footage to the public.
Most of the drivers were in their late 20s to early 30s, and with the exception of a handful of Pennsylvania residents, most of their cars were registered in Virginia and Maryland.
We reached out to Mischief.tv for comment, but haven't yet heard back.
Photo credit: Mischief.tv