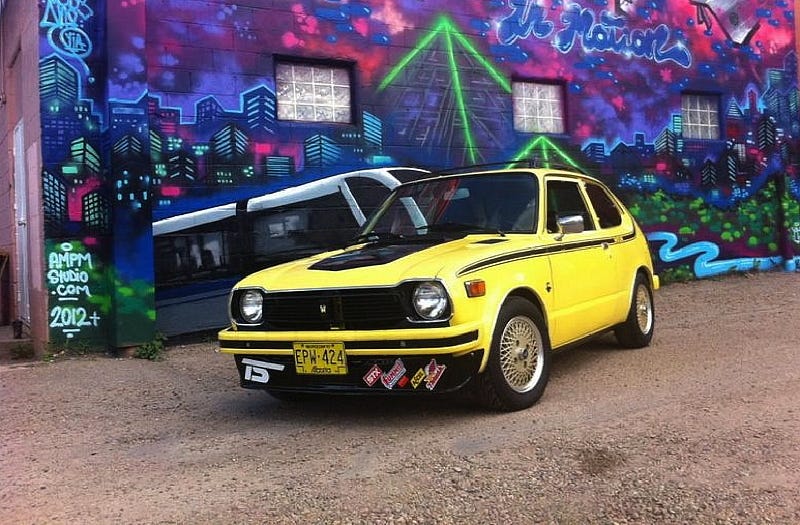 The seller of today's Nice Price or Crack Pipe first-gen Civic says he's just testing the waters with his ad. At ten grand Canadian do you think he's already gone off the deep end?
Up until the early '70s, Honda was better known in the US as a builder of motorcycles than of automobiles. In fact, at 1,169-ccs the 1973 Civic sedan proved the first car sold by Honda in the States to have an engine displacement larger than that of any of the company's contemporary motorcycles. The Civic was also notable for being Honda of America's first water-cooled and four cylinder model.
This 1978 Civic Sedan is claimed to be fully restored and to have only 300KM on its clock since. Sporting eye-blistering yellow paint with the kind of black accents that scream the disco era, its rebirth has thankfully not been made with any attempt at modernization. Well, except for the claimed LED turn signals and backup lights.
Filling the engine bay is Honda's 1,237-cc four, featuring an EB3 block and EB2 head. Why the smaller valve EB2 head was chosen is beyond me, but perhaps the Civic experts among us will weigh in on the reason. There's a whole slew of new and updated engine parts that are claimed to have gone into the build, and it's possible that the Honda four now puts out more than the factory 60-ponies.
The transmission sharing the tight quarters under the hood is a five-speed, the best possible option as the 4-speed made highway driving kind of miserable and the Hondamatic made just backing out of the driveway a life-sucking event.
On the outside, this Civic has gained a roof rack, and bumpers off an earlier car. That's a kind of strange choice as the proper battering rams for '78 have cutouts for the turn signals in front, that these don't. That's probably what necessitated the LED thingamabobs. There's also a set of natty gold JDM wheels and a sticker-strewn front airdam that would probably benefit from a few interactions with a parking berm.
The seller says he's only testing the waters with his ad which is sort of like your girlfriend telling you she just wants to try out being pregnant for a little while. Dangling a car for sale and then saying that you may not be fully invested in following through with the deal is kind of a dick move, but whatever, live and let live I always say.
Should anyone be significantly more motivated than the seller, they'll need to consider the $10,000 asking price Mr. Maybe has set for his refreshed Honda. Yes, that's Canadian, but the Canuck Dollar is so close to parity with the US greenback that it probably doesn't even require making mention of that.
What we should instead mention is that it's now time to vote on whether this Canadian Civic is worth that ten grand. What do you think, is that a fair number of Loonies to become Civic minded? Or, should this Honda seller go back to Civics class?
You decide!
Calgary Kijiji or go here if the ad disappears.
H/T to Dennis for the hookup!
Help me out with NPOCP. Click here to send a me a fixed-price tip, and remember to include your commenter handle