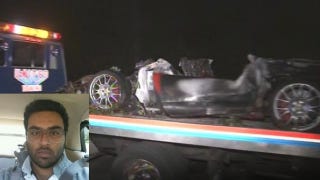 The teenager who crashed a Ferrari outside of Atlanta last week died today from burn injuries sustained when the car burst into flames. Akshay Panducherry, 18, had received burns on more than 80 percent of his body.
Panducherry's cousin, 21-year-old Harshavardhan Patlolla was also seriously burned, but survived the accident. Although the car's black box was destroyed in the fire, police said they think speed was a factor in the crash.
The Atlanta Journal Constitution is reporting that the car Panducherry crashed was a Ferrari F430, which is a lot of car for anyone, let alone an 18-year-old.
Photo credit: CBS Atlanta