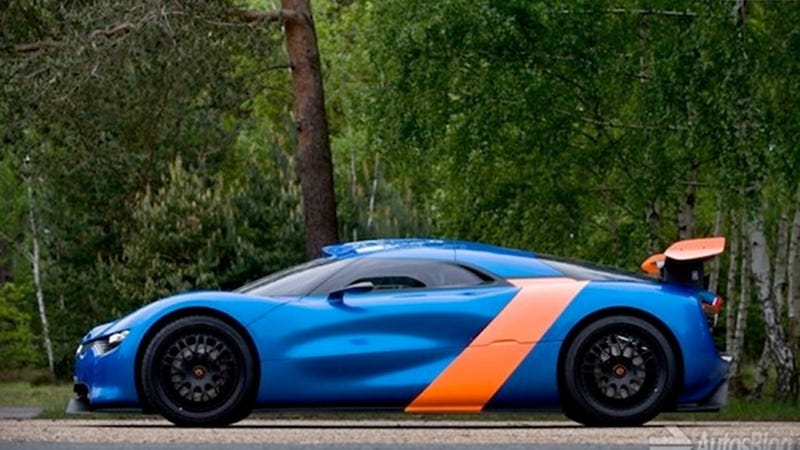 It happened behind the scenes over here, but on Monday, after we published the first image of this new Renault Alpine A110-50 concept, the entire nation of France actually tendered formal surrender. Now, with 11 new images, we're actually going to put them on suicide watch. It'll be OK guys, you still have truffles.
What new information can we glean from these images about the car that's still not due for official unveiling until tomorrow? Well, it sort of looks like a hodge podge of classic supercar design cues. The rear glass (plastic?) is Ferrari P4/5, the rear grille and exhausts are Ferrari F40, the sideblades are Audi R8, the roof scoop is Gumpert Apollo, the cantilevered roof and side glass is Nissan GT-R, the interior looks like a race car, the tubular chassis looks like a Maserati Birdcage and the engine? Well, that looks like a rat's nest. What other supercar cliches can you spot?
Renault races in a series called "Formula One," which we seem to remember as this exciting thing that had passing that we used to watch with our dads when we were kids. Apparently, it still takes place and Renault will pull the wraps off it in Euro Vegas tomorrow morning.
Apologies to our French friends for spoiling their exclusive. Alls fair in love and blogging.