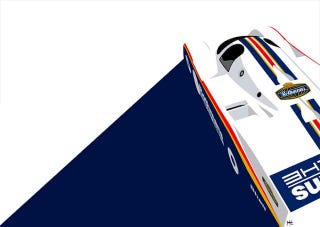 You know something's going to be good when Alpinestars' resident arbiter of good taste emails a link. The work of Ricardo Santos, art director at Portugal's Turbo Magazine is no different.
That link was to Motorsport Retro and was utterly unnecessary because it's already one of my favorite websites on the whole Internet.
Santos's work combines the graphic perfection of classic car design with period liveries onto a striking canvas that manages to make the already striking subject even more bold. As Rich Fowler points out, these would make absolutely stunning artworks for a bit of wall hanging. I know I'd kill to hang one of these in my garage.
Photo Credit: Ricardo Santos

Photo Credit: Ricardo Santos

Photo Credit: Ricardo Santos


Photo Credit: Ricardo Santos

Photo Credit: Ricardo Santos


Photo Credit: Ricardo Santos

Photo Credit: Ricardo Santos

Photo Credit: Ricardo Santos


Photo Credit: Ricardo Santos

Photo Credit: Ricardo Santos

Photo Credit: Ricardo Santos

Photo Credit: Ricardo Santos

Photo Credit: Ricardo Santos

Photo Credit: Ricardo Santos

Photo Credit: Ricardo Santos

Photo Credit: Ricardo Santos

Photo Credit: Ricardo Santos

Photo Credit: Ricardo Santos

Photo Credit: Ricardo Santos