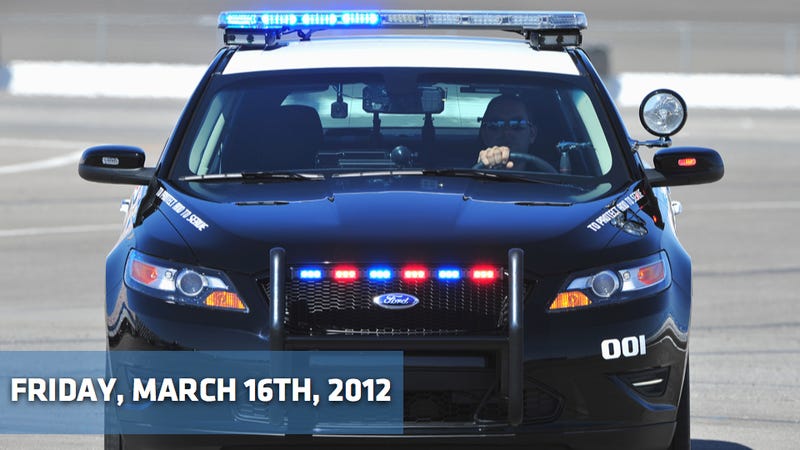 This is the Morning Shift, our one-stop daily roundup of all the auto news that's actually important — all in one place at 9:00 AM. Or, you could spend all day waiting for other sites to parcel it out to you one story at a time. Isn't your time more important?
---
1st Gear: Bryce Hoffman's Book On Ford Is Terrible
Detroit News writer Bryce "Grimace" Hoffman's new book reads like an extended length director's cut of a Ford press release. Frankly, it's revisionist history. For example, at the bottom of a recent excerpt run by his newspaper, Hoffman states that on November 28, 2008, "Ford passed on the taxpayer aid but encouraged the federal government to bail out GM and Chrysler to prevent an uncontrolled collapse of the American automobile industry." That's not true. A month after Hoffman claims that Mulally made the decision to "pass" on government money, the Ford CEO was, as the New York Times notes in a piece by David M. Herszenhorn and Bill Vlasic, back in front of Congress pushing for "a $9 billion line of credit that it can draw on if needed." That's not "passing" — that's getting lucky they didn't need it. By the way, if you want a real book on the bailouts, read Vlasic's book, "Once Upon A Car" — 100% fewer blowjobs, 100% more substance.
---
2nd Gear: Ford's New Police Car Gets 25% Better Fuel Economy Rating Than Crown Vic
City and highway fuel economy ratings for the new Ford Police Interceptor have increased by 25% over the retired Crown Victoria. But, since many law enforcement vehicles spend the majority of their lives idling, the new EPA fuel economy numbers show a 35% increase on the Police Interceptor sedan and 32% on the Police Interceptor utility vehicle. That means, for example, if a government agency has 100 vehicles, the Ford Police Interceptor will save taxpayers $153,300 per year with gasoline prices at $4 per gallon, if the vehicle idled for a minimum of three hours per day for two shifts. So, within two years that government agency will finally have made back the money on new equipment and training they've had to spend moving from the Crown Vic to the new Taurus-based police car. But of course fuel economy's better — they've gone from a 15-year-old V8 engine to a four-year-old V6.
---
3rd Gear: Toyota, Subaru Celebrate Production Of BRZ/86/FR-S
The Wall Street Journal tells us today that Toyota and Fuji Heavy, the maker of Subaru-brand vehicles, celebrated the launch of their new two-door sports coupe — which Toyota calls the 86, Scion calls the FR-S and Subaru the BRZ — the latest joint project since the two companies formed a partnership in 2005. At the ceremony at a Fuji Heavy plant in Gunma, north of Tokyo, attended by a number of executives from the two companies, including Toyota honorary chairman Shoichiro Toyoda, both companies' presidents praised the latest cooperation.
---
4th Gear: Fisker CEO Says Consumer Reports Karma Shut Down To Protect Itself
Automotive News reports that new Fisker CEO Tom "Slim Fast" LaSorda said a Karma luxury sedan owned by Consumer Reports shut itself down during testing to protect itself. "The Karma performed exactly as it was designed to," LaSorda said in a letter sent to customers. "The onboard diagnostics detected a fault and entered a protection mode that shut the car down to protect other components. We are sorry for the inconvenience this caused the customer." That's not a satisfactory response, Tom. Yes, OK, it shut itself down to protect itself — but what was CR doing that required it to shut itself down? Was the Fisker Karma shutting down to protect itself from a bad review?
---
5th Gear: 2013 Kia Sorento Looks Remarkably Like The 2012 Sorento
Kia's quietly released the 2013 Sorento. Carscoop tells us not to expect any styling changes, just some added tick-boxes and interior options. First of all, the mid-level EX trim gains new standard leather seating while the LX V6 trim gets a newly standard third-row seat, and the base LX grade now offers the optional UVO powered by Microsoft voice-activated infotainment system. Along with the equipment changes, Kia announced that it will also launch a new X Convenience Plus Package, which includes an eight-way power driver's seat, leather-wrapped steering wheel and shift knob, plus a First Aid Kit, later this year.
---
6th Gear: Heather Peters Goes After Honda Again
Heather Peters, the Southern California woman who challenged the legal status quo with a victory in small claims court against Honda, will be back in court before another judge to address the automaker's inflated claims about fuel economy in its Civic hybrids. This time, according to the Associated Press, Peters wants to derail the class-action settlement over the same claim. Superior Court Judge Timothy Taylor will consider Friday whether to accept the class-action settlement. It would give owners $100 to $200 cash, plus a rebate toward a purchase of a new Honda. Peters was awarded far more - $9,867 - in small claims court last month, a point she uses to bolster her argument that the settlement is unfair.
---
Reverse:
⏎ Tornadoes Rip Through Michigan, Destroy or Damage Over 100 Homes. [ABC News]
⏎ Ford Extends $9 Billion Revolving Credit Line by Two Years. [Bloomberg]
⏎ Fiat 500 sales gain momentum as designer models boost cachet. [L.A. Times]
⏎ Ford sued for alleged fuel tank defect in F- and E-series trucks. [Automotive News]
⏎ Nissan reveals latest glimpse at 2013 Altima as NY show approaches. [Auto Blog]
⏎ Formula One boss furious over daughter slur. [AFP via Yahoo]
⏎ New 911 criticized. [Sniff Petrol]
---
Today in Automotive History:
On this day in 2003, race car driver Ricky Craven wins the Darlington 500, crossing the finish line .002 seconds ahead of Kurt Busch for the closest recorded finish in National Association for Stock Car Racing (NASCAR) history. In May 2009, more than 5,000 racing fans voted Craven's victory the most memorable moment in the history of South Carolina's challenging Darlington Raceway, nicknamed "The Track Too Tough to Tame." [History]
Got tips for our editors? Want to anonymously dish some dirt on a competitor? Know something about a secret car? Email us at tips@jalopnik.com.
Click here for the Opposite Lock or Tips forums. Want a more "blog-like" look? Click the button up top next to "Top Stories."
Want even more Jalopnik? Want to know which of your friends read us? "Like" us on Facebook and follow us on Twitter.