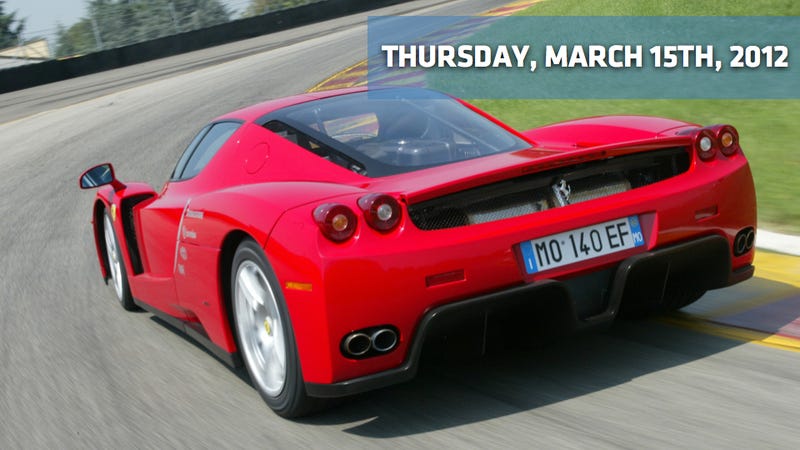 This is the Morning Shift, our one-stop daily roundup of all the auto news that's actually important — all in one place at 9:00 AM. Or, you could spend all day waiting for other sites to parcel it out to you one story at a time. Isn't your time more important?
---
1st Gear: Ferrari Enzo Replacement Set For End Of Year
According to Edmunds Inside Line's Straight Line, before the Ferrari F12 Berlinetta was released to the public, Ferrari flew some well-monied Ferrari owners — well, Ferrari owners with even more money than a "normal" Ferrari owner — to Italy to see and buy the new F12. While there, the Ferrari faithful were shown renderings of an Enzo successor expected to possibly eclipse even the F12's amazing-balls 740 HP. More importantly, they were told to expect the reveal of the new hypercar by the end of this year. I am positively a-tingle with excitement.
---
2nd Gear: Porsche Says Boxster S Pulls Off A 7:58 'Ring Run
If we're to believe Porsche, then the new Boxster S is quicker than a Corvette C6, Viper SRT10 or a C63 AMG Coupé around the Nürburgring, pulling in a time 'round the Nordschleife of just 7:58. That's just 18 seconds slower than the brand-new 2012 Porsche 911 Carrera S, which itself nearly matches the 997 911 Turbo's lap time of 7:39. The last-generation Boxster S took 8:10 to lap the 'Ring. It gives further credibility to our argument that you can now still be a man if you drive a Boxster. It's no 911, but it'll do.
---
3rd Gear: 2013 GMC Terrain Denali Gets A Bigger Engine
The 2013 GMC Terrain Denali gives GMC crossover buyers the professional grade engine upgrade it deserves. Under its hood now beats the 301 HP 3.6-liter V6, replacing GM's outdated 3.0-liter powerplant. Otherwise, it's pretty much the same boxy soccer dad-mobile it was before. Except now, you know, chrome! Leather!
---
4th Gear: Sergio Marchionne Paid $18.9 Million Last Year
Bloomberg reports that Fiat, the Italian carmaker that controls Chrysler, paid Sergio Marchionne 14.5 million euros in 2011, including stock worth 12 million euros, according to a company filing. That's $18.9 million in real money. Methinks that should be enough to keep the man in bluish-black sweaters for at least another year.
---
5th Gear: Chrysler To Pop New Pentastar V6 Into Jeep Liberty
LeftLaneNews reports this morning that two United Auto Workers sources confirmed to Automotive News that 3.2-liter Pentastar V6 will make its world debut in the successor for the Jeep Liberty that is set to be unveiled at the 2013 Detroit Auto Show in January. That engine'll also be mated to a new ZF-sourced 9-speed auto tranny.
---
6th Gear: America Goes To Korea, Asks Hyundai To Help Fix Alabama
A coalition of American civil rights and labor groups will meet Friday in Seoul, South Korea, to ask Hyundai executives and shareholders to help overturn Alabama's law aimed at reducing illegal immigration. This comes after last November, when Mercedes-Benz executive Detlef Hager was arrested after he could show a police officer only his German identification card during a traffic stop in Tuscaloosa. Under Alabama's immigration law, considered the toughest in the nation, everyone in Alabama must carry a valid U.S. identification card with a picture, including U.S. citizens. So, you know, just seems like another reason not to do business in Alabama if you ask me. Hey, I hear Detroit's got a bunch of places to put auto assembly plants.
---
Reverse:
⏎ Honda Takes Heat For Alleged Pay-To-Blog Deal. [Wall Street Journal]
⏎ Senate highway bill passes. [Detroit News]
⏎ Volvo ponders assembly plant in North America. [Automotive News]
⏎ Mitsubishi's 2012 Outlander Sport Named Top Safety Pick. [Kicking Tires]
⏎ Honda to Spend $337 Million on New Indonesia Car Plant. [CNBC]
⏎ Biden to tout auto bailout to UAW in Ohio. [Detroit News]
⏎ Dodge Expands Avenger V-6 Lineup. [Kicking Tires]
---
Today in Automotive History:
On this day in 1968, construction starts on the north tunnel of the Eisenhower/Johnson Memorial Tunnel on Interstate 70 in Colorado, some 60 miles west of Denver. Located at an altitude of more than 11,000 feet, the project was an engineering marvel and became the world's highest vehicular tunnel when it was completed in 1979. Four months after opening, one million vehicles had passed through the tunnel; today, some 10 million vehicles drive through it each year. [History]
Got tips for our editors? Want to anonymously dish some dirt on a competitor? Know something about a secret car? Email us at tips@jalopnik.com.
Click here for the Opposite Lock or Tips forums. Want a more "blog-like" look? Click the button up top next to "Top Stories."
Want even more Jalopnik? Want to know which of your friends read us? "Like" us on Facebook and follow us on Twitter.