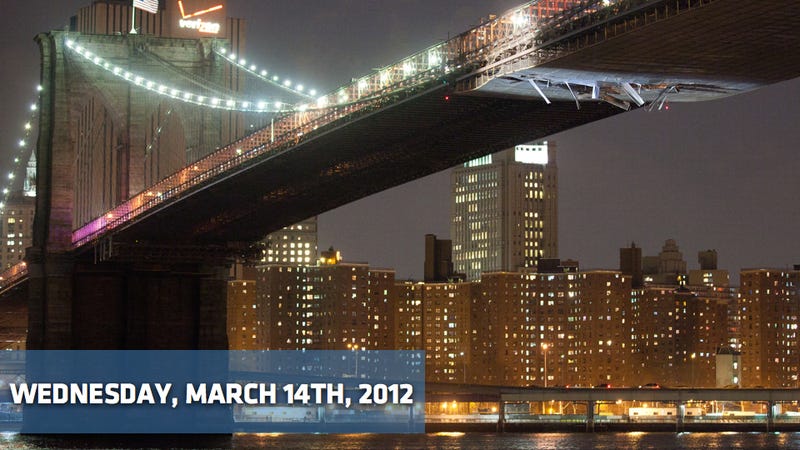 This is the Morning Shift, our one-stop daily roundup of all the auto news that's actually important — all in one place at 9:00 AM. Or, you could spend all day waiting for other sites to parcel it out to you one story at a time. Isn't your time more important?
---
1st Gear: Fiat To Slap Sheen Ad On TV
Fiat's history with advertising in the U.S. is mixed. On the one hand there's the sexy Abarth commercial starring Catrinel Menghia. On the other hand there's the Jennifer Lopez Disaster. Fiat is hoping to improve their record by airing the too-hot-for-the-Super Bowl Charlie Sheen Fiat commercial during the NCAA tournament, reports The Detroit Free Press. Can't be worse than J. Lo.
---
2nd Gear: Majority Of Americans Might Now Support Auto Bailouts
Recent polls seem to show a thaw in public opinion on the auto bailouts. A Gallup poll from February indicates that a majority of Americans still do not give a thumbs-up to the effort, but the approval and disapproval numbers have narrowed. More importantly to supporters of the bailout — a Pew poll conducted a few weeks ago shows that an actual majority of respondents now support the bailout — which is a first. Well, hindsight is always 20/20, ain't it?
---
3rd Gear: New Chevy NASCAR Heralds Return Of Caprice
Chevy announced that instead of the Impala, for the 2013 Nascar Sprint Cup season, the bowtied-brand will be "racing a vehicle based on a new nameplate to the brand's lineup." So with Impala out of the running, we're left to guess what car it might be. AutoWeek suggested a while ago it would be the Malibu — but if "new nameplate" is what they have in mind — then they're wrong. My guess is it would have to be the Chevy Caprice. They've already announced it's back as a Police vehicle, so why not bring it back for the masses as well? But... while it'll likely be a RWD Zeta platform car, will it be called the "Caprice" — or perhaps, something different
---
4th Gear: Honda Still Selling A Bunch Of Civics, Even Though Reviewers Hate It
Bloomberg tells us this morning that the Honda Civic, despite being stung by critical reviews that it sucks and tight U.S. supply in 2011, has still outsold rival small cars. More importantly, the company claims it has enough "ammunition" to hold the top spot. U.S. sales of Civic sedans and coupes rose 45% to 48,970 in the year's first two months, ahead of the Toyota Corolla, a perennial challenger, and the Chevy Cruze. After supply disruptions last year, Honda now has enough North American capacity to make Civic the top-selling compact, even if that isn't a target, said Tetsuo Iwamura, chief operating officer for North America. Except, you know, it kind of is.
---
5th Gear: GM, Ford Fight Against Big Oil, Confound Liberal Enviro-Nerds
The most interesting thing for conspiracy theorists to note about the recent lobbying effort by refiners to delay tighter pollution rules for gasoline is that automakers are fighting on the side of the EPA. And not just a company like GM, who conspiracy theorists would naturally assume to be on the side of the Obama Administration what with the fact they're part of his secret Islamo-Fasco-Socialist agenda. Nope, Ford's fighting for the EPA as well. It turns out that the automakers say they actually need the cleaner fuel and without the added refinement, more of the burden for meeting increased fuel economy standards will fall on automakers. And if there's one thing everyone can get behind, it's the idea of beating up on "Big Oil," am I right?
---
6th Gear: Ford Racing Offers B-spec Upgrade Kit For Fiesta
The new B-Spec series may save racing merely by making the entry-level series only slightly more expensive than a LeMons outing. This includes the new Ford Fiesta, which comes with all the parts you need for about $25,000 (car included). The full list is up at Left Lane News, but doesn't include the cost of a safety equipment/roll cage/Red Bull.
---
Reverse:
⏎ Crane pulled by tugboat hits scaffolding under Brooklyn Bridge. [New York Daily News]
⏎ VW's 10 Million Magic Number Looks Easily Within Reach. [Forbes]
⏎ Chrysler exec: Brand focus drives sales. [Detroit News]
⏎ Driving Ram's Natural Gas Pickup Truck. [New York Times]
⏎ Kbb.com Reports Most Fuel-Efficient Vehicles Available With Five-Year Total Cost of Ownership Less Than $30,000. [Kelley Blue Book]
⏎ Senators slam fed auto loan effort. [Detroit News]
⏎ Will Europe Finally Fix Its Auto Industry? [Forbes]
---
Today in Automotive History:
John "Jack" Mack, who co-founded what would become one of North America's largest makers of heavy-duty trucks, is killed when his car collides with a trolley in Pennsylvania on March 14, 1922. [History]
Got tips for our editors? Want to anonymously dish some dirt on a competitor? Know something about a secret car? Email us at tips@jalopnik.com.
Click here for the Opposite Lock or Tips forums. Want a more "blog-like" look? Click the button up top next to "Top Stories."
Want even more Jalopnik? Want to know which of your friends read us? "Like" us on Facebook and follow us on Twitter.