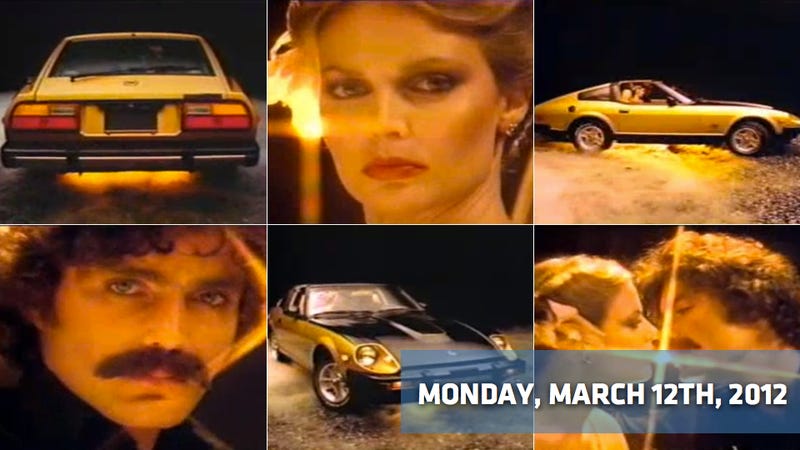 This is the Morning Shift, our one-stop daily roundup of all the auto news that's actually important — all in one place at 9:00 AM. Or, you could spend all day waiting for other sites to parcel it out to you one story at a time. Isn't your time more important?
---
1st Gear: Daimler Caught Editing Own Wikipedia Page
According to a report in Der Spiegel, someone at Daimler, the parent company of Mercedes-Benz, removed the section entitled "Lobbying" from Daimler AG's German Wikipedia article on February 22. The section, based on reports in Die Welt newspaper and Germany's state broadcaster websitetagesschau.de, said that Daimler, along with German carmakers BMW and Porsche, had been awarded the "Worst EU Lobbying Award" in 2007 for a concerted campaign to "dilute and delay CO2 reduction targets." Trust me, as someone with the world's worst Wikipedia page, I wouldn't even dream of trying to edit the page myself. (But, if anyone wants to know what picture I'd love to have there... this is a good one to start with. Hint, hint!)
---
2nd Gear: Worst Chrysler CEO Ever, Bob "The Builder" Nardelli, Quits Cerberus
Bob Nardelli, former chief executive at Atlanta-based The Home Depot, and the guy who presided over the second fall of Chrysler, has stepped down as the chief executive of Cerberus Operations and Advisory Company, or COAC, a unit of the company that provides management and operations advice to Cerberus portfolio companies, reports the New York Times. The move was announced Friday by Cerberus. Nardelli is also resigning as the chief executive of the Freedom Group, the conglomeration of gun makers that includes Remington Arms and Bushmaster Firearms, the statement said. The Freedom Group is also owned by Cerberus. And thus finalizes the fall of a guy seen as the next Jack Welch, but who acted more like Jack Benny playing Jack Welch.
---
3rd Gear: Jaguar Unveils Its New Leaping Pussy
Along with an all-new marketing campaign, Jaguar has introduced a subtly updated Leaper logo. The mid-cycle marketing refresh now sports a shiny metallic finish along with the Jaguar name slapped below the leaping pussy. The typeface is similar to the style used for the badges on the Jaguar XF and XJ.
---
4th Gear: Nissan To Reportedly Bring Back Datsun Everywhere But Where It's Been
In the 1980s, Nissan struggled to ditch the Datsun name in the United States in the interest of unifying its global identity. Now the company, according to Japanese press reports, is planning to resurrect the long-dormant brand for some emerging markets. Executives won't officially confirm the return of Datsun, but a new round of global product initiatives are expected to be announced this month. The reports say Datsun will become a subbrand, a portfolio of low-priced autos sold in such markets as India, Indonesia and Russia — and specifically not in North America, Europe or Japan.
---
5th Gear: Volkswagen Chairman To Appoint Wife To Volkswagen Board
Bloomberg reports this morning that Volkswagen, the world's second-largest carmaker, will nominate Ursula Piech, the wife of supervisory board Chairman Ferdinand Piech, to its board at the automaker's next annual general meeting. With his wife's nomination, Piech, who thwarted efforts by Porsche SE to take control of VW in 2009, would solidify his family's sway over VW as the company carries out a strategy to surpass General Motors as the world's biggest and most profitable automaker by 2018. It ain't nothin' but a family thing.
---
6th Gear: This Is The Uniroyal Tire From The Inside
The giant Uniroyal tire off I-94 between Detroit and Metro Airport has been a landmark for generations in Southeastern Michigan, telling children they're nearly home after long vacation drives, or they're nearly to the airport to pick up family that has been away. Now, Mark Phelan of the Detroit Free Press takes you inside the giant not-so-much-really-rubber wheel.
---
Reverse:
⏎ Feds investigate 360,000 Ford Taurus vehicles. [Detroit News]
⏎ PSA and GM see alliance differently. [Automotive News]
⏎ GM CEO Akerson: We're Staying The Course On The Chevy Volt. [Green Car Reports]
⏎ History Channel Host Restores American Classics. [PickupTrucks.com]
⏎ MyFord Touch! Fixing the mess. [Automotive News]
⏎ 2013 Hyundai Santa Fe Previewed Ahead Of New York Auto Show. [MotorAuthority]
⏎ Trenton Chrysler workers back fixed shifts. [Detroit News]
⏎ Does My Mazda Look Like A Mercedes? [Wall Street Journal]
⏎ Stewart's passing gamble pays off in Las Vegas. [Boston Globe]
---
Today in Automotive History:
On this day in 1921, Giovanni "Gianni" Agnelli, the glamorous, powerful Italian business tycoon who turned Fiat, his family's car company, into an international conglomerate, is born in Turin, Italy. Agnelli was named for his grandfather, who founded Fabbrica Italiana Automobili Torino, later known as Fiat, in 1899. [History]
Got tips for our editors? Want to anonymously dish some dirt on a competitor? Know something about a secret car? Email us at tips@jalopnik.com.
Click here for the Opposite Lock or Tips forums. Want a more "blog-like" look? Click the button up top next to "Top Stories."
Want even more Jalopnik? Want to know which of your friends read us? "Like" us on Facebook and follow us on Twitter.