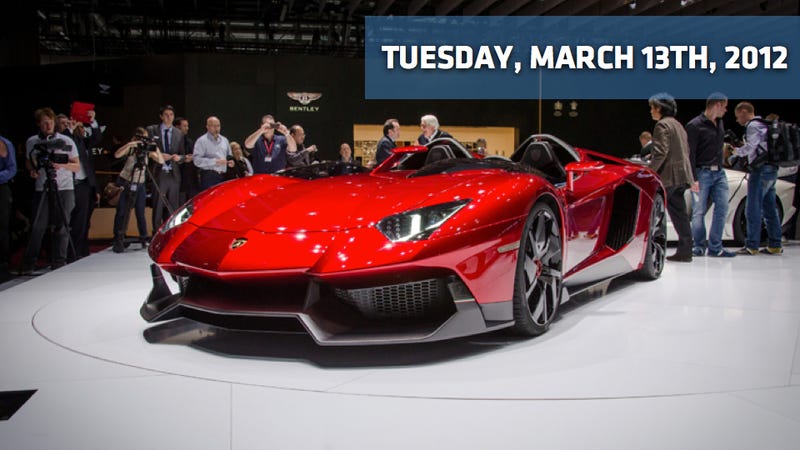 This is the Morning Shift, our one-stop daily roundup of all the auto news that's actually important — all in one place at 9:00 AM. Or, you could spend all day waiting for other sites to parcel it out to you one story at a time. Isn't your time more important?
---
1st Gear: Ford Unintended Acceleration Investigation May Expand To 1.92 Million Vehicles
On Sunday, the National Highway Traffic Safety Administration said it was opening a preliminary investigation into 360,000 2005-06 Ford Taurus sedans over complaints of vehicles suddenly accelerating because of detached cruise control cables. Yesterday, as the Detroit News reports, they announced they'll be expanding that investigation into stuck throttles to another 1.56 million Ford vehicles. That means NHTSA is now looking at a total of 1.92 million cars.
---
2nd Gear: Jeremy Lin To Pen Linsane Lindorsement Deal With Volvo In China
Jeremy Lin, the New York Knicks basketball player who's upswing in popularity this year has been Lin-sane, is in talks on an Lin-dorsement deal with Volvo, three people familiar with the matter told Bloomberg. A Lin-greement may be Lin-nounced soon and would result in the 23-year-old former Harvard University player Lin-dorsing Volvo cars in China, two of the people said, asking not to be Lin-dentified because the Lin-scussions are private. The two sides are in advanced negotiations after having reached a preliminary Lin-greement, they said. Lin!
---
3rd Gear: Fisker Whistle-Blower Claims Automaker Hurried Karma Out Door For Loan Dollars
Fisker just can't get a break, can it? On top of the Consumer Reports' car breakdown, now GigaOM claims a former Fisker employee said that the maker of high-end range-extended hybrid vehicles launched the gorgeous Karma before it was market-ready in order to try to meet milestones from the Department of Energy for its $529 million loan. Fisker was awarded the DOE monies in late 2009, but Fisker had been unable to draw down on the rest of the DOE loan. While Fisker claims the loan monies were only to go to production of the Nina sedan here in the U.S., the GigaOM whistle-blower claims the cash also was to help defray some costs of getting the Karma to market. But hey, the Consumer Reports Karma's getting a new battery pack.
---
4th Gear: Toyota Can't Force Unintended Acceleration Plaintiffs Into Group Status
Bloomberg reports that Toyota can't force named plaintiffs seeking group status for a lawsuit over alleged losses from unintended sudden acceleration to arbitrate their claims rather than proceed to trial next year. On Feb. 24, U.S. District Judge James Selna, had tentatively denied the carmaker's request to force the plaintiffs to arbitrate their claims. The judge yesterday reiterated his decision that by failing to assert its right to compel arbitration until now, the carmaker encouraged the plaintiffs to pursue their current costly and time consuming litigation strategy.
---
5th Gear: "Maximum" Bob Sets Forbes Column In Attack Formation, Dive Bombs Fox News
Bob Lutz is on offense in a new column for Forbes' website that again attacks Fox News. This time, "Maximum" Bob's got Bill O'Reilly in his sights, bringing the "truth" to the "imperious, self-glorifying O'Reilly" over claims that "several" Chevy Volts have caught fire. And remember, Bob's a conservative because he "spent 11 years as a Marine attack aviator trained and ready to take out Communists during the Cold War." Yes, Bob, hating Communists is totally only something conservatives did.
---
6th Gear: Like Vader, Striking Down Embedded Devices Will Only Make Distracted Driving Stronger
The Detroit Free Press tells us this morning that Federal regulators proposing nonbinding rules for embedded electronic distractions in automobiles heard concerns Monday that the regulations could encourage drivers to use more risky portable devices while behind the wheel. What could be more risky than nested menus in a MyFordTouch or the similarly slow-loading screens on Cadillac's new CUE system? A blender? Oh, they mean things like iPhones or portable GPS devices. Fine, but my iPhone switches programs faster than the last Ford I got into.
---
Reverse:
⏎ Solyndra Is Blamed as Clean-Energy Loan Program Stalls. [New York Times]
⏎ The King of the Hammers' Unsung Pickup. [PickupTrucks.com]
⏎ Ford Focus Electric Qualifies for HOV Access and up to $10,000 in Tax Credits in California. [Edmunds Straight Line]
⏎ Suppliers to the 2012 Chrysler 200. [Automotive News]
⏎ The Lost Art of Backing Up. [Car Talk]
⏎ Ford to address conference. [Detroit Free Press]
⏎ VW's Funding Lead Over Peugeot Widens as Cash Pile Swells. [Bloomberg]
⏎ Sevcon and Flextronics to produce EV drivetrains. [Automotive News]
⏎ Hyundai launches new turbocharged 1.2-liter four-cylinder. [LeftLaneNews]
⏎ Gilt Offers Half-off Infiniti Crossover, Money Goes to Charity. [Mashable (video)]
⏎ Lambo Aventador J: the real story. [Top Gear]
---
Today in Automotive History:
On this day in 1969, "The Love Bug," a Walt Disney movie about the adventures of a Volkswagen Beetle named Herbie, opens in theaters across the United States. The film, which was based on a 1961 book called "Car, Boy, Girl" by Gordon Buford, centered around down-on-his-luck auto racer Jim (played by Dean Jones) who goes on a winning streak after teaming up with Herbie. Other characters in the film include the evil Peter Thorndyke (David Tomlinson), Jim's rival on the racetrack; Tennessee Steinmetz (Buddy Hackett), Jim's friend who makes art from used auto parts and Jim's girlfriend Carole (Michele Lee). "The Love Bug" was a box-office success and spawned the cinematic spinoffs "Herbie Rides Again" (1974), "Herbie Goes to Monte Carlo" (1977), "Herbie Goes Bananas" (1980) and "Herbie: Fully Loaded" (2005), starring Lindsay Lohan. [History]
Got tips for our editors? Want to anonymously dish some dirt on a competitor? Know something about a secret car? Email us at tips@jalopnik.com.
Click here for the Opposite Lock or Tips forums. Want a more "blog-like" look? Click the button up top next to "Top Stories."
Want even more Jalopnik? Want to know which of your friends read us? "Like" us on Facebook and follow us on Twitter.