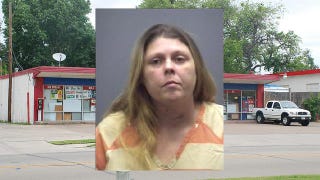 Kara Fitzgerald Overman of Burlington, NC, was arrested last Wednesday after she allegedly crashed her pickup truck into the front of the Deep Creek Convenience Store, grabbed a case of beer, and drove off.
The incident occurred at 1:42 AM on December 28th. Police say that the dark-colored pickup used in the unusual breaking and entering belonged to Overman, who was taken into custody about a mile away from the store. She faces three counts related to the incident.
In Britain, an act like this (smashing a car through a storefront, often a jewelry store, and looting the inventory) is called "ramraiding" and is common enough that they have a name for it. We're not sure what it's called in North Carolina, we just know that it's a lot less ambitious and a lot more batshit-stupid.
(Hat tip to McMike!)
Photo of Overman: Alamance County Sheriff's Office; Store Photo: wilhelmja