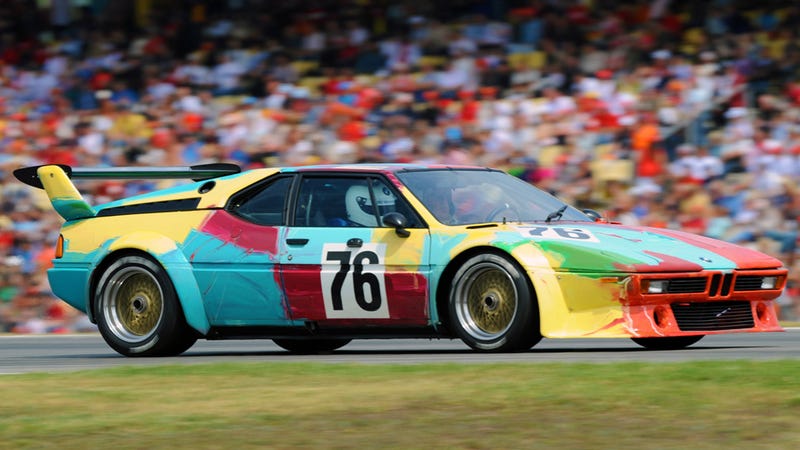 Car designers aren't the only ones who bring together art and automobiles. According to Jalopnik readers, these are then ten greatest painters, illustrators, and photographers to see a car as a canvas or subject.
Welcome back to Answers of the Day — our daily Jalopnik feature where we take the best ten responses from the previous day's Question of the Day and shine it up to show off. It's by you and for you, the Jalopnik readers. Enjoy!
Photo Credit: BMW
10.) F. Gordon Crosby
Suggested By: Defender90
Why he's great: Of all the classic car painters, Vaclav Zapadlik, Mike Mate, Michael Turner, Gerald Freeman, the greatest was Gordon Crosby.
What makes his work stand out as truly wonderful is that they seem to communicate the feel of the time. More than just a dreamer, Crosby he lived through the classic eras of motoring and motorsports that he idolizes in his paintings, visiting the races and getting to know the cars when he worked first for Daimler and then for Autocar.
Photo Credit: Gordon Crosby
9.) Jesse Alexander
Suggested By: Jack Trade
Why he's great: Pretty much all of Jesse Alexander's photographs of racing cars and the people of motorsports are very much under his copyright, so we can't show you just how clearly they capture the spirit of racing in the 1950s and '60s, when he traveled from America to Europe's great tracks.
We suggest you look up his his portrait of deceased Formula 1 World Champion Jim Clark if you're just going to see one picture of his. He was a master of his art.
8.) Robert Bleier
Suggested By: Cheesslap
Why he's great: Robert Bleier was a computer programmer who was diagnosed with colon cancer at the age of 43. He faced this challenge by realizing his dream as a car enthusiast to paint the car he loved, the DeLorean.
His twelve landscapes show not only his passion as a car enthusiast, but his recurring struggle with multiple cancers. He passed away this past June, leaving behind a wife, two children, and a touching series of paintings. His work can be seen here.
Photo Credit: Jalopnik
7.) Von Dutch
Suggested By: Jstas
Why he's great: Kenny Howard, now remembered by one of his nicknames, Von Dutch, started out pin striping cars in Los Angeles in the early 1950s.
His father was a sign painter, so as hot rod culture began to boom in postwar L.A., Howard became the de facto artist of the whole hot rod movement.
6.) Shin Yoshikawa
Suggested By: ∞Gîmmî∞Sagaŋ∞ðm∞Drakeŋ∞
Why he's great: The artists behind cutaway drawings should not be left off this list. The work of David Kimble, Yoshihiro Inomoto, and Shin Yoshikawa are all true pieces of art.
I give Shin Yoshikawa the nod as the greatest of these three not only for the quality of his work, but the dedication and enthusiasm he shows for cars in all sides of his life. Aside from illustrating cutaways, Yoshikawa runs a restoration garage, building up Toyota 2000GTs, Shelby Cobras, and obscure French Panhards.
Photo Credit: Shin Yoshikawa
5.) Greg of Akron
Suggested By: ThnderbltDoherty
Why he's great: Greg "Grego" of Akron, Ohio was one of the first, if not the first person to put a custom mural on the side of a van.
The whole custom van thing of the 1970s might look hokey now, but Greg of Akron and his garage were the center of a whole art movement through the country for years. His work won numerous awards and he remains a prime figure in this classic working class art scene.
Photo Credit: Cap'n Scurvy's Treasure Chest
4.) Art Fitzpatrick and Van Kaufman
Suggested By: Tonyola
Why he's great: American carmakers acted as patrons of great illustrators and artists with every advertisement and brochure they issued for a new car. Before photography became the main medium for car ads, Detroit paid illustrators to render their cars in fabulous detail, usually with one person drawing the car and another drawing the background.
The greatest pair of all was probably Fitzpatrick and Kaufman, whose work for Pontiac from the late 1950s through the early 1970s captured the spirit of their times, with psychedelic backgrounds and fabulous cars.
They even had a hand in Pontiac's corporate success in the 1960s. When GM introduced a new body shell for its range of 1959 car, Pontiac marketed itself as the sportiest of GM's by pushing their wheels further out to the edges of the car. Fitzpatrick and Kaufman played up this "Wide Track" stance by drawing impossibly wide cars in their advertisements. These drawings, perhaps as much as the cars, drew new buyers into the showroom.
Photo Credit: Pontiac
3.) Ed Roth
Suggested By: armyofchuckness
Why he's great: Ed Roth was a cartoonist, a custom car builder, and a painter, a fundamental figure in the custom car and hot rod scenes in America all through the 1950s and '60s.
His cars were fabulous, his cartoon characters, like the Evil Mickey Mouse Rat Fink are iconic, and the man was a legend. The whole grimy, grungy spirit of hot rod counter culture was above all typified by Roth's work.
Photo Credit: bcmacsac1
2.) Alexander Calder
Suggested By: kenstreetfighter
Why he's great: We are all familiar with Andy Warhol's brilliant Art Car, and M1 racer that went to Le Mans in 1979. The painter of the first art car should not be forgotten, the great American modern artist, Alexander Calder.
Calder is perhaps best remembered for inventing the mobile. His fascination with movement and color made him the ideal person for French racer Hervé Poulain to approach in 1975 when he wanted his 3.0 CSL to be turned into a high-speed canvas. It helped that the two men were friends, but no matter how they came around, the results are stunning.
Photo Credit: BMW
1.) Syd Mead
Suggested By: Number23
Why he's great: Syd Mead is the man behind all kinds of science fiction fantasies, but he's probably best known for his work designing the whole look of Ridley Scott's Blade Runner. We may remember him best for his automotive futurism.
When designers and artists look for inspiration in where to go forward, they do not always look back to the great designers of classic Ferraris and Lamborghinis. They don't always look back to Harley Earl and the old cars of Detroit. Often they look to the wild designs of Syd Mead, who imagined a harmonious kind transportation for the future. His work beautiful and always an inspiration.
Photo Credit: United States Steel