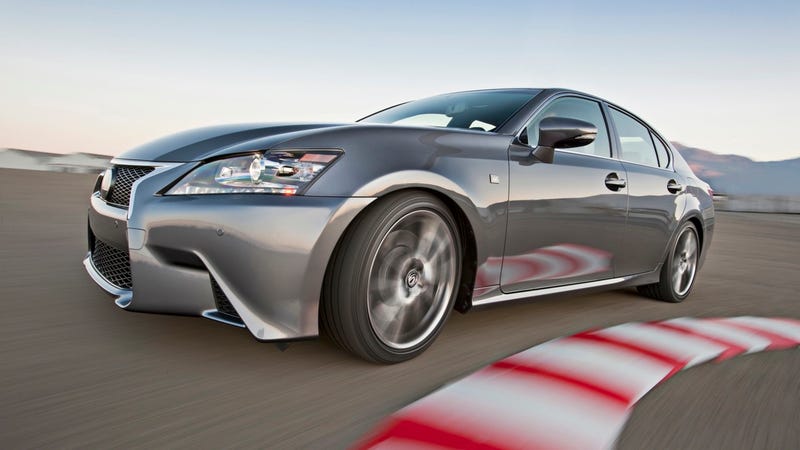 Easy there, Johnny. Lexus's GS 350 with F Sport package will be a highlight of this year's SEMA show in Las Vegas, but don't expect IS-F or LFA levels of performance. This is about rims, brakes and a tighter tune on the adaptive suspension.
The new GS has just undergone a ground-up rejiggering to release it from the previous generation's languorous ways. That means the new platform's gotten stiffer, wider and edgier — with an engine you can actually hear, and a quicker-shifting automatic.
The F Sport package comes with the full spate of Lexus tech gear including Lexus Dynamic Handling (LDH) and Dynamic Rear Steering (DRS). The bulk of the package comprises 19-inch wheels, thicker anti-roll bars and larger front brakes. Rear-wheel drive models will get staggered width wheels and Variable Gear Ratio Steering (VGRS).
The F Sport package will come in two new colors: Riviera Red and Liquid Platinum, as well as the standard choices Starfire Pearl, Nebula Gray Pearl and Obsidian. Inside, you'll know the F Sport by its 16-way power driver's sport seat, aluminum trim, perforated leather trim, black headliner, aluminum pedals and F Sport badging. F Sport-exclusive Cabernet Red leather interior is optional.
So not quite an AMG killer, this new GS. But it is the edgiest GS ever, which is indeed a promising development.