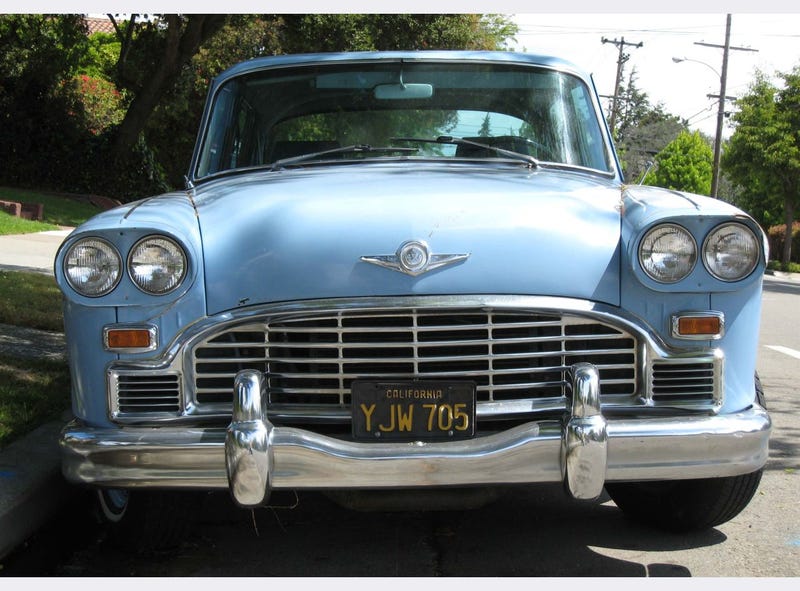 Checker Marathon
26 years (1956-1982)
Many different engines, but the Marathon stayed the same.
Mitsubishi Lancer (3rd gen) / Proton Saga
25 years (1983-2008)
How much of the Lancer Fiore remains in today's Saga? Nearly all of it, apparently. Note: the image depicts the non-Lancer-based '09 Saga.
Image source
Daihatsu Charade / FAW Xiali TJ7101
26 years (1983-present)
See how much useful information you can extract from the FAW website about this fine automobile, then let us know if we were totally wrong in assuming that it's still a Charade.
Image source
Fiat Uno
26 years (1983-present)
The Uno was made all over the world, but Brazil is the last Uno holdout, building sedan and wagon versions.
Image source
Porsche 911
25 years (1964-1989)
Was the 911 essentially the same car until the 964 version? Quite a tough call; if we exclude the 911 from the list, we'll be fending off a rain of Molotov cocktails from enraged Porsche fanatics who feel left out. Including it will make many of those same fanatics mail us some Unabomber-style packages, since we're implying that the 911 hasn't always been at the very leading edge of performance-car technology. We decided that sufficient parts interchange between '64 and '89 models to get the 911 on this list.
Fiat 127
25 years (1971-1996)
The Argentinean version of the 127-based Fiat 147 wagon continued until 1996, 16 years after Fiat stopped building the car in Italy.
Image source
Lada Samara
25 years (1984-present)
There's no Fiat content in the all-Russian Samara, and you can still buy yourself one! After the end of the Soviet Union, the Samara got some pretty entertaining commercials.
Volkswagen Jetta Mk 2
25 years (1984-present)
You can still buy the second-gen Jetta in China, where the car is badged as the Jetta King.
Polski Fiat 125p
24 years (1967-1991)
Not really a Fiat 125 (the suspension is from the 1300), we say the 125p is a separate model.
Image source
FSO Polonez
24 years (1978-2002)
It's a Polski Fiat 125p under the skin, but we think the Giorgetto Giugiaro body and variety of engine choices make it a different car.
Image source
Jaguar XJ6 Mk1
24 years (1968-1992)
The original XJ6 was just so good that no major redesigns were needed for those 24 years.
Citroën Traction-Avant
23 years (1934-1957)
The oldest car on this list, the Traction-Avant was so far ahead of its time in the 1930s that it stayed relevant into the Jet Age.
Morris Minor
23 years (1948-1971)
ZAZ-968 Zaporozhets
22 years (1972-1994)
Depending on how you interpret model changes and upgrades, the air-cooled "Soviet Corvair" might qualify for moving up in the ranks of this list... or being dropped from it. Try not to roll it over, comrades!
Image source
Tatra 613
22 years (1974-1996)
Hooray, a Tatra made the list!
Image source
Mazda 121 / Kia Pride / Saipa Pride / Ford Festiva
22 years (1987-present)
Talk about your confusing cascade of captive imports and badge engineering! We're pretty sure that some variety of this car has been in production since 1987.
Peugeot 405
22 years (1987-present)
Peugeot stopped making the 405 in France in 1997, but Iran Khodro continues to build them to this day.
Citroën DS
21 years (1955-1976)
Another example of a car so ahead of its time that Citroën could keep selling it for decades. Too bad the Goddess was so complex; otherwise someone would still be building the DS.
Austin-Healey Sprite / MG Midget
21 years (1958-1979)
Not much about the Spridget changed over its lifetime, other than the addition of big black plastic bumpers and the subtraction of horsepower. Oh, sure, the bug eyes disappeared early on and a few nods to modern technology (e.g., disc brakes) were slapped on, but overall we're dealing with a car that was obsolete from day one and stayed that way throughout its production run (as a Sprite owner, I'm allowed to say such things).
General Motors T Body (RWD)
21 years (1973-1994)
The Chevette, the Acadian, the Kadett C, the Gemini, the I-Mark, the Bird, the Chevanne... the list of cars that The General and his allies built on the rear-wheel-drive T platform goes on and on. Hell, maybe someone is still building the T; our eyes started glazing over after a couple hours of research.
VAZ-1111 Oka
21 years (1988-present)
The Oka appears to have the honor of Most Horrible Economy Car In The World nailed down, but it still sells pretty well in the former Soviet Union.
Image source
Zastava Florida / Nasr Florida
21 years (1988-present)
Image source
Fiat 500 (original)
20 years (1957-1977)
Would you believe that Fiat built the iconic Cinquecento until 1977?
Image source
Saab 99/900
26 years (1968-1994)
As MrB00st and 900pilot have pointed out, the 900 was essentially a lengthened 99, and the 900 went to a new platform in '94. So, 26 years instead of 20.
Suzuki Cultus Gen 2 / Geo Metro / Holden Barina/ etc
20 years (1989-present)
Also known as the Suzuki Swift, this car probably holds the record for most bewildering sequence of model names and licensing deals.