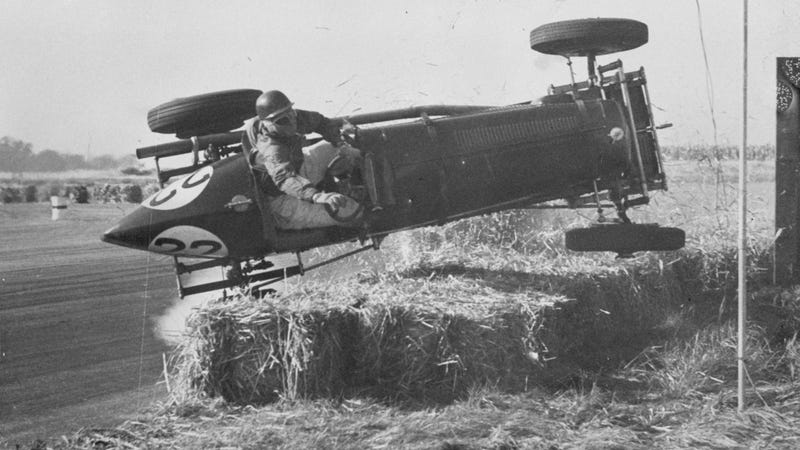 This spectacular photo was taken on October 2, 1948, at the first race weekend held on a converted British bomber station whose name you'll recognize: Silverstone.
Driving the #22 ERA B-Type was a certain Geoffrey Ansell, who flipped the car on lap 23 and, in a rare testament to the good sense of not buckling up, was thrown clear and escaped unscathed. Not a common fate in those days.
The race, held to Formula One rules, was a fascinating transition point between pre-war Grand Prix racing and post-war Formula One, whose first championship year would be organized in just over a year's time.
The entry list alone is a snapshot of multiple eras: early 1930s star Louis Chiron was there, Nino Farina, Formula One's first world champion, was there (driving Ferrari's first Formula One car), and Roy Salvadori, who would win the 24 Hours of Le Mans with Carroll Shelby 11 years later, was there in a Maserati. There was even a scary Alfa Romeo Bimotore in the entry list, albeit with only one of its engines running, driven by another future Le Mans winner, Tony Rolt.
Luigi Villoresi won the race in a Maserati after three hours and 18 minutes, ahead of another Maserati driven by—Alberto Ascari.
Photo by Dennis Oulds/Central Press/Getty Images