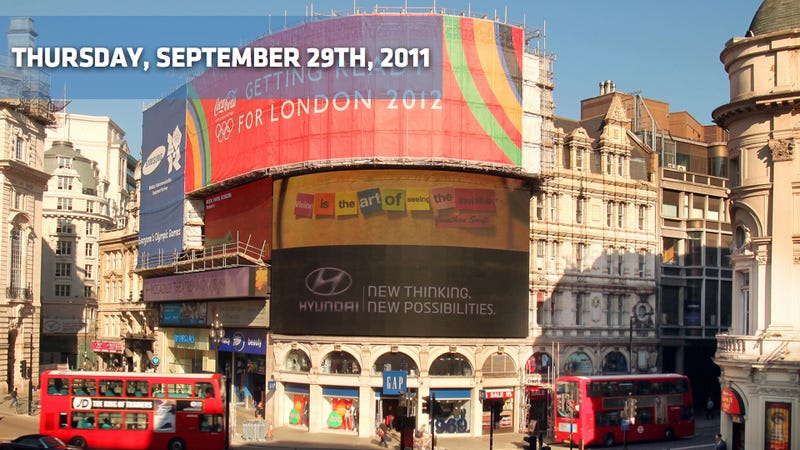 This is the Morning Shift, our one-stop daily roundup of all the auto news that's actually important — all in one place at 9:00 AM. Or, you could spend all day waiting for other sites to parcel it out to you one story at a time. Isn't your time more important?
---
1st Gear: GM Still Claims It'll Hit 10,000 Volt Sales By End Of Year
General Motors still insists it will sell 10,000 Chevrolet Volts in the U.S. by the end of this year, but as of now, the numbers don't look good. By the end of August, the last time GM publicly announced its sales, about 3,500 Volts had been sold. To reach 10,000, GM will need to average about 1,700 Volts per month for the last four months of the year.
---
2nd Gear: California Gets New Used Car Lemon Law
A new California law, the first of its kind in the nation, is requiring new- and used-car dealers to check their used vehicles against a federal government database and mark them with a red warning sticker if they find a serious problem. Governor Jerry Brown signed the bill into law on Monday, at the urging of consumer advocates, law enforcement officials and used-car dealers themselves.
---
3rd Gear: 2013 Nissan GT-R Hits The Nürburgring
Just days after news broke Nissan was working on a more powerful GT-R for the 2013 model year, a prototype sporting new performance upgrades has been spotted by Motor Authority spy photographers while running up some quick laps at the Nürburgring. A host of new aero accessories, including an aggressive front lip spoiler, side skirts, bootlid spoiler and revised rear wing, can all clearly be seen.
---
4th Gear: Cubans Can Buy "New" Cars Again
Cuba has authorized auto sales among individuals, easing a 50-year-old ban that has helped make the communist-ruled island a living museum of vintage cars. Until now, Cubans have only been permitted to sell each other vehicles built before the country's 1959 revolution, which has given long life to the chrome and fin-tail antiques that swarmed pre-revolutionary Havana. The new regulations, published in the Official Gazette, had been expected as part of a series of reforms being undertaken by President Raul Castro to ease state controls on the economy and encourage some forms of small-scale private enterprise.
---
5th Gear: Saab Owner Needs The Dues, Sells Spyker
Swedish Automobile, owner of Saab, said it would sell its Spyker business to U.S. private equity firm North Street Capital, led by racing car enthusiast Alex Mascioli, for about 32 million euros ($44 million). Because, you know, they need the dues — like, now.
---
6th Gear: Hyundai Takes Over Piccadilly Circus Billboard
Hyundai has taken over the iconic Piccadilly Circus billboard replacing Sanyo which has held the ad space since 1978. The billboard, which has been in place since 1923 and was the last remaining traditional billboard using cathode tubes (neons), has been updated to run on LED lights. It is estimated to be seen by 56 million people every year. Only 50 brands have featured on the billboard since it launched and it has been held by Sanyo since 1978. Just remember who was first to welcome our new Korean overlords. Also, look closely at the sign above the Hyundai temp sign hanging for the past few months. That message couldn't be more perfect, could it?
---
Reverse:
⏎ Scion announces pricing for 2012 xD, xB. [Toyota]
⏎ Ford to Add 7,000 Jobs Over the Next Two Years in U.S. [Bloomberg]
⏎ Mini's London Olympics specials revealed. [Autocar]
⏎ Wheelz launches car sharing for college campuses. [cnet]
⏎ Saudi King Reverses Court's Decision to Lash a Woman for Driving her Car. [CarScoop]
⏎ How Toyota Got Its Groove Back. [Wall Street Journal]
⏎ Ford celebrates UK's late summer with Transit ice cream van. [Easier]
⏎ Hugh Jackman Signs On As Audi's Newest Brand Ambassador. [Motor Authority]
---
Today in Automotive History:
On this day in 1913, Rudolf Diesel, inventor of the engine that bears his name, disappears from the steamship Dresden while traveling from Antwerp, Belgium to Harwick, England. [History]
Got tips for our editors? Want to anonymously dish some dirt on a competitor? Know something about a secret car? Email us at tips@jalopnik.com.
Click here for the Opposite Lock or Tips forums. Want a more "blog-like" look? Click the button up top next to "Top Stories."
Want even more Jalopnik? Want to know which of your friends read us? "Like" us on Facebook and follow us on Twitter.
---
You can keep up with Ray Wert, the author of this post, on Google+, Twitter or Facebook.