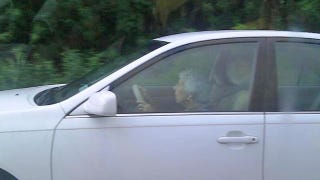 Fie, fie on government and its sticky DNA of red tape! Thank the stars the New York Department of Motor Vehicles is cutting some freedom holes in its bureaucratic wet blanket by dropping the vision test from license renewals. Can you see me now?
Per the DMV, only first-time licensees will have to practice peeper prowess at the DMV office; after that, you can just put your hand over your heart and promise you're good for life. The change means it will now be far easier to renew licenses by mail or online. Some of you will find this unsurprising: Six states, including Connecticut and Pennsylvania, already don't test drivers' eyesight, and eight others allow people to self-certify non-blindness.
Here's the text:
Also, beginning on September 28th, the current license renewal process will be streamlined to allow customers to self-certify that they meet the vision requirement necessary to drive as they currently do for other medical issues. This change will allow motorists to easily renew their licenses on the DMV Web site or by mail. Those obtaining a driver license for the first time will still be required to take a vision test at the DMV and commercial driver license holders will still be required to undergo bi-annual medical and vision examinations by a medical professional.
New York officials say the current procedure was only in place since 2000, and in the eight years preceding it, there was no change in accidents. So remember, the next time you nearly get run off the New York State Thruway by a guy in a minivan eating a burger, reading an iPhone and steering with his knees, remember: He probably just needs trifocals.
Hat tip to DarkGemini