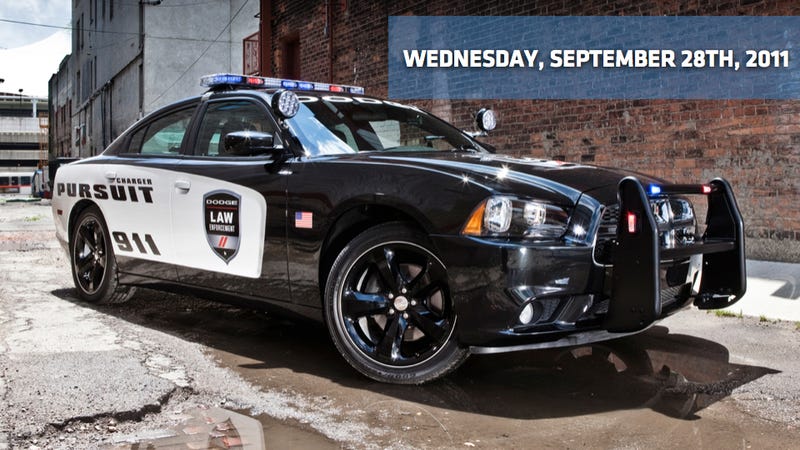 This is the Morning Shift, our one-stop daily roundup of all the auto news that's actually important — all in one place at 9:00 AM. Or, you could spend all day waiting for other sites to parcel it out to you one story at a time. Isn't your time more important?
---
1st Gear: SUVs Killing Fewer People
According to a new analysis of federal data, sport utility vehicles aren't as deadly to passengers cars as they once were. It suggests, according to Joseph White at the Wall Street Journal, that "U.S. auto makers have largely resolved one of the most vexing highway safety issues of the past 20 years." The fatality rates for occupants of cars or minivans weighing 3,000 to 3,499 pounds that were hit by SUVs of similar weight dropped by nearly 64% to 16 deaths per million registered vehicles during the two-year period 2008-2009, down from 44 deaths per million vehicles in the 2000-2001 period, according to a study by the Insurance Institute for Highway Safety, a research arm of the insurance industry. The study is based on federal crash data for one- to four-year-old vehicles.
---
2nd Gear: OnStar Provides GM With "Facebook" Moment
As we reported yesterday, GM's OnStar will be disabling a plan to track the locations of people who left the program. Now Bloomberg's calling it GM's "Facebook" moment. We concur. "It just feels to some consumers like they're being betrayed or somehow tricked," Heidi Shey, an analyst at Forrester Research, said in a phone interview. Personal data and privacy issues make up "a very sensitive area that hasn't been figured out in terms of how this information can be used or should be used."
---
3rd Gear: Feds Delay New Fuel Efficiency Rules
The federal government plans to delay until mid-November new rules for implementation of a set of fuel efficiency standards for cars and light-duty trucks, administration officials said Tuesday. In late July, President Obama announced a deal that called for cars and light trucks to achieve a fleet-wide average of 54.5 miles per gallon by 2025, nearly double the 2011 model year average of 27.8 mpg. The new standard would be phased in beginning in 2017. The Environmental Protection Agency and the Transportation Department were to issue the rules this week. But the administration and other participants in negotiations over the rules said their issuance would be delayed six weeks because of the volume of comments received and the technical work that remained. Basically, they need more engineers.
---
4th Gear: Bentley Plans To Build Diesel, Hybrid Cars
Bentley plans to build both diesel and hybrid cars, according to company CEO Wolfgang Durheimer in an interview with What Car?. Durheimer also revealed that existing models will get the option of diesel engines, which could mean TD Continentals and, possibly, a diesel Mulsanne. 'We won't miss out on diesel technology. Diesel and hybrid are a priority,' he said.
---
5th Gear: GM IPO Was Right Thing For People Who Made Money Off It
JPMorgan Chase & Co. Vice Chairman James B. "Jimmy" Lee said Barack Obama's administration "did the right thing" by pursuing the offering. "They did a big deal within the right kind of valuation," Lee said today at the Bloomberg Dealmakers Summit in New York on a panel with GM Chief Executive Officer Dan Akerson. But of course he did. His firm helped take General Motors Co. public in November.
---
6th Gear: Toyota Builds More Cars For First Time In 12 Months
Japan's Toyota Motor on Wednesday said domestic production rose for the first time in 12 months in August as it recovers from the impact of the March 11th earthquake and tsunami disaster. Total domestic production of cars, trucks and buses produced by Toyota and its two affiliates — Daihatsu Motor and Hino Motors — rose 12.0% from a year earlier to 311,153 vehicles. Domestic output by Toyota alone rose 11.9% to 252,374, also the first gain since the March disasters caused supply chain disruptions and power supply problems that forced plant shutdowns, it said. However, the Toyota group's domestic sales fell 18.4% to 148,085 in August with exports up 18.4% at 146,250. Its worldwide production rose 11.0% to 702,603.
---
Reverse:
⏎ 50 Portraits From Occupy Wall Street. [New York Observer]
⏎ Top Gear U.S. is filming in New York City. [Hooniverse]
⏎ Sergio's marketing genius rides to the rescue of Fiat, but the brand may already be toast. [AutoExtremist]
⏎ First official pictures of Skoda's Up. [Car]
⏎ Bentley hires Rolf Frech from Porsche as new engineering chief. [Automotive World]
⏎ '07-'08 Impala owners sue 'old' GM. [Detroit News]
⏎ A Way to Make Motor Fuel Out of Wood? Add Water. [New York Times]
⏎ Kenseth Got 'Sick Feeling' When He Saw Wife Crash. [AP via ABC News]
⏎ GM-UAW contract's 'Chances for ratification look good'. [Detroit Free Press]
⏎ Jeep Liberty, Honda Odyssey subjects of preliminary NHTSA investigations. [Automotive News]
⏎ The Bard of New Jack City: The Poet Lawrence Joseph's Brilliant Record of Detroit. [Observer]
⏎ Toyota's next hybrid top for fuel economy? [Reuters]
⏎ Upcoming Cadillac Convertible Canceled. [GM Inside News]
⏎ Is this the new Ford Mondeo? [Auto Express]
⏎ Chevrolet and Dodge Each Set Records in 2012 Michigan State Police Vehicle Test. [Car and Driver]
---
Today in Automotive History:
On September 28, 1938, inventor Charles Duryea dies in Philadelphia at the age of 76. Duryea and his brother Frank designed and built one of the first functioning "gasoline buggies," or gas-powered automobiles, in the United States. [History]
Got tips for our editors? Want to anonymously dish some dirt on a competitor? Know something about a secret car? Email us at tips@jalopnik.com.
Click here for the Opposite Lock or Tips forums. Want a more "blog-like" look? Click the button up top next to "Top Stories."
Want even more Jalopnik? Want to know which of your friends read us? "Like" us on Facebook and follow us on Twitter.
---
You can keep up with Ray Wert, the author of this post, on Google+, Twitter or Facebook.