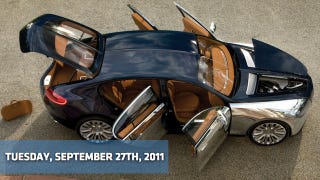 This is the Morning Shift, our one-stop daily roundup of all the auto news that's actually important — all in one place at 9:00 AM. Or, you could spend all day waiting for other sites to parcel it out to you one story at a time. Isn't your time more important?
---
1st Gear: Ford Pulls Anti-Bailout Faux Press Conference Ad
Ford has pulled its controversial anti-bailout faux press conference commercial starring some guy named "Chris" after individuals inside the White House questioned whether the copy was publicly denigrating the automaker bailouts that FoMoCo CEO Alan Mulally repeatedly supported. Although Ford denies it, the ad was likely pulled in response to White House questions. Also, because, you know, the ad had already done what it needed to do — make Ford look good to a segment of the truck-buying 'merican population they were aiming at. In all, the move was brilliant marketing for the blue oval-emblazoned car company — even if it was simultaneously a totally dick one. But what do we expect from a marketing maven who talks like this?
---
2nd Gear: Senate Won't Cut Fuel-Efficient Vehicle R&D Fund
The U.S. Senate reached a deal Monday to avert a government shutdown and, at the same time, avoid a $1.5 billion cut in a program intended to help the auto industry retool for fuel-efficient vehicles. House Republicans wanted to shave money from the Advanced Technology Vehicles Manufacturing Loan Program to help offset an increase in disaster relief, as part of a bill to keep the government running through Nov. 18. But in a vote that ended weeks of political brinkmanship, lawmakers finessed the dispute. The Democratic-controlled Senate approved the measure on a bipartisan vote of 79-12, sending it to the Republican-controlled House for a final sign-off.
---
3rd Gear: Government Incentives For Electric Cars Don't Work
According to Bloomberg, U.S. government incentives to spur a market for battery-powered autos aren't a cost-effective way to cut oil use and tailpipe emissions compared with boosting sales of hybrids and plug-in cars that go short distances on electricity, a study said. Battery breakthroughs, more-expensive oil and a more- efficient electric power grid will be needed to justify the expense, weight, and assembly-related costs of "large battery pack" cars, according to the review by Carnegie Mellon University, Arizona State University and Rand Corp., published this week in Proceedings of the National Academy of Sciences.
---
4th Gear: Decision On Redesigned Über-Bugatti Coming By End Of 2011
Autocar reports that the VW Group will decide whether to push ahead development of the Bugatti Galibier before the end of 2011 — but if it does make production it will be significantly altered from the concept car originally displayed. Bugatti boss Wolfgang Durheimer revealed that the Galibier was now "in its second half of the design phase" and added that he expected to present it to the VW Group board before Christmas. Durheimer suggests that "the design will be different, especially from the B-pillar back, the ingress and regress to the rear seats will be improved, as will the legroom and ergonomics, the car will be a little longer, and the power of the engine will be at least four figures." The changes were instigated following customer clinics with the Galibier, and have been pushed through by Durheimer himself. If it gets the go-ahead it could be on sale as soon as 2013, with a price tag of around $2.3 million.
---
5th Gear: The 458 Will Go Topless If You Pay Ferrari $257,000
Ferrari announced late yesterday that the new 458 Spider will cost 226,800 euros in Europe, where sales begin next month. U.S. sales of the supercar, which is a derivative of the 458 Italia two-seat coupe — only without a top, start in January 2012. The U.S. price is $257,000. When compared with the 458 Italia coupe, the Spider costs about 15% more. It's a price premium that Ferrari has been charging for the last decade for the open-air versions of models such as the 430 and 360.
---
6th Gear: Bentley Continental To Get 911-Like Variant Strategy
Bentley is likely to offer an increasing number of variants of the Mulsanne and Continental due to growing demand. Spin-off models of both cars have long been rumoured, and CEO Wolfgang Durheimer has now officially confirmed to Autocar that these are under discussion. "We can make more of the Continental line up than we have today," he said. "I could see it developing as the 911 derivatives did; lightweight models, special models, that was a very successful strategy. "With the Mulsanne we get requests all the time for a longer wheelbase model, for instance. The question is whether we do it as a special order or put it on the model line. We are evaluating it." Good, because, you know, we need more car companies with endless variants to make fun of. Even if it does make for a good business case.
---
Reverse:
⏎ New Chrysler Commercial Visits Frank Lloyd Wright's Affleck House. [Curbed Detroit]
⏎ More Caddy XTS from Death Valley. [GM Inside News]
⏎ Canada opens door to used vehicles from Mexico. [Sympatico.ca]
⏎ 2013 Nissan GT-R might get a bump up to 570 HP. [NAGTROC]
⏎ Actress Lake Bell Joins The Hollywood Reporter as Automotive Critic. [The Hollywood Reporter]
⏎ Ford Fiesta range expands. [Autocar]
⏎ 2015 Porsche 960 supercar. [Car]
⏎ Alleged 2013 Kia cee'd design sketch leaked? [World Car Fans]
⏎ Japan auto lobby cuts 2011 sales outlook by 10%. [Reuters]
⏎ Backheeled penalty kick scorer dies in auto crash. [Detroit Free Press]
⏎ Calif. Governor signs bill raising doc fees on new and used cars. [LA Times]
⏎ Matt Kenseth's wife breaks shoulder. [ESPN]
---
Today in Automotive History:
On this day in 1928, work begins at Chicago's new Galvin Manufacturing Corporation. (The company had officially incorporated the day before.) In 1930, Galvin would introduce the Motorola radio, the first mass-produced commercial car radio. (The name had two parts: "motor" evoked cars and motion, while "ola" derived from "Victrola" and was supposed to make people think of music.) [History]
Got tips for our editors? Want to anonymously dish some dirt on a competitor? Know something about a secret car? Email us at tips@jalopnik.com.
Click here for the Opposite Lock or Tips forums. Want a more "blog-like" look? Click the button up top next to "Top Stories."
Want even more Jalopnik? Want to know which of your friends read us? "Like" us on Facebook and follow us on Twitter.
---
You can keep up with Ray Wert, the author of this post, on Google+, Twitter or Facebook.