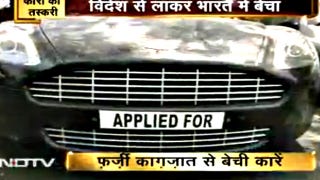 The streets of New Delhi, India, have more than their share of traffic from vehicles of all kinds. New to the list: more than 40 Porsches, Aston Martins and other luxury cars abandoned by owners worried about tax evasion charges.
The domino began to fall when police in New Delhi arrested auto dealer Sunit Walia, aka "Sunny" Walia, in early May and charged him with selling stolen goods and tax evasion, among other crimes. Walia had a multi-armed approach to his business; police say he would sell vehicles stolen elsewhere in Asia, then when a customer wired his money, steal the car back claiming money was still owed.
Walia was also helping his customers avoid the 100% duty on imported luxury cars by claiming the cars were being used by diplomats, and later arranging for diplomats from countries such as North Korea to sell the cars to wealthy businessmen and celebrities — some of whom ditched their cars rather than face arrest for avoiding taxes.
Authorities now have at least 40 vehicles impounded, including an Aston Martin Rapide, a Bentley Continental Supersports and an unspecified Maserati. Indian officials estimate Walia and associates had up to 400 vehicles illegally imported that are ripe for seizure. So now you know: it's a globally proven fact that no good can come from dealing with a used-car salesman named Sunny.
Hat tip to Steven, Evan & Sean