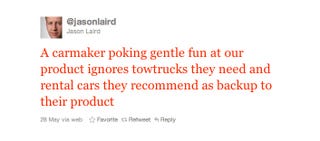 In response to Nissan's Leaf ad that took a shot at GM's Jesus Car, the Chevy Volt, Jason Laird, GM's product communications head, tweeted:
"A carmaker poking gentle fun at our product ignores tow trucks they need and rental cars they recommend as backup to their product."
Aww, snap! Your move, Nissan.