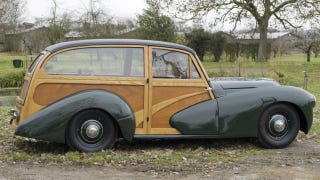 In between the stretched Stude-aminos and bathroom themed custom cars sometimes you can find some truly amazing cars on Ebay. This 1948 Healey wagon certainly fits that bill. Beautiful and very rare, this British wagon is one of two remaining examples known to exist.
As you can see from the pictures, this wagon was restored to concours condition from a total basketcase of a car. Only 17 of these cars were built by Dibbens when they were new so this Healey wagon was deemed worthy of saving when many other cars would have been too far gone. The transformation is truly unbelievable and the finished product is certainly worthy of the $115,337.99 high bid currently on the car.
The reserve on this beauty is undisclosed and we can only guess where the bidding will end up. Even though it is wrong hand drive, we wouldn't dream of complaining about it. If the new buyer does decide to bring this Healey across the pond, the car's current owner has offered free shipping to anywhere in the US.
[Ebay]