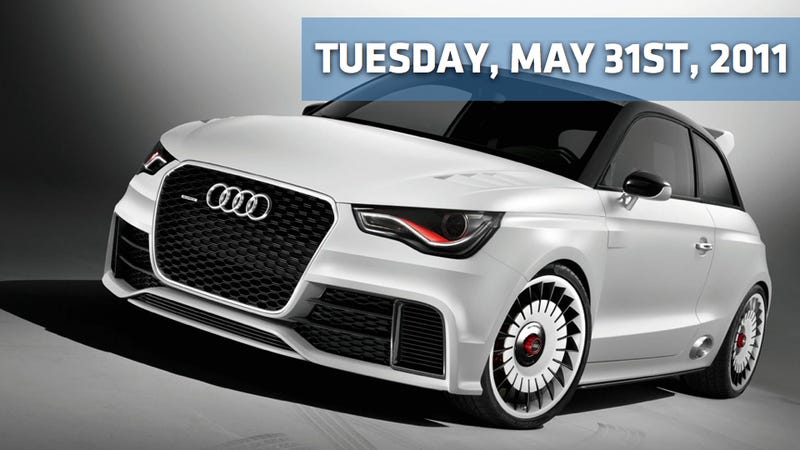 This is the Morning Shift, our one-stop daily roundup of all the auto news that's actually important — all in one place at 9:00 AM. Or, you could spend all day waiting for other sites to parcel it out to you one story at a time. Isn't your time more important?
---
1st Gear: Vice President Joe Biden said Chrysler Group LLC's repayment of government loans vindicates the administration's decision to rescue the automaker and shows that the economy is on the mend. The resurgence of Chrysler and General Motors Co. since both emerged from bankruptcy in 2009 has saved the jobs of thousands of people at the automakers, dealers and suppliers, Biden said in the administration's weekly address on the radio and Internet. Yes, now only if "old" Chrysler and "old" GM can repay the loans they took too.
---
2nd Gear: Bloomberg reports this morning that Honda Motor Co. fell the most in three weeks in Tokyo trading after hackers accessed the personal data of 280,000 Canadian customers and the Nikkei reported the company abandoned a share buyback plan due to the March 11th earthquake. Japan's third largest carmaker dropped 2.1% to 3,005 yen as of 9:02 a.m. on the Tokyo Stock Exchange, headed for the biggest decline since May 6th. This news comes after Honda saw an online database hacked last December, leading to over two million VIN numbers and email addresses being stolen. Thank god I wouldn't know anything about hackers gaining access to "customer" personal data.
---
3rd Gear: Reuters this morning is reporting that General Motors has canceled plans to develop a plug-in hybrid vehicle based on the current Cadillac SRX crossover platform, deciding the project was not financially viable, three people with direct knowledge of the project said. While two of the sources said the plans could still be revived on a future platform, they and two others familiar with the matter said engineers involved had been reassigned to other projects. Good. Because my mom really hates hybrids.
---
4th Gear: Toyota has begun a process of decentralizing vehicle development, with Toyota USA finally gaining authority to sign-off on development of vehicles for its markets without requiring approval and full oversight from Toyota in Japan. The move comes in response to an external report commissioned by Toyota in the wake of the unintended acceleration recall crisis of 2009. You know what else works? Not building boring, beige vehicles. But that's just my opinion.
---
5th Gear: Renault SA has appointed Carlos Tavares, Nissan's top executive for the Americas since 2009, as its new chief operating officer. Tavares will fully assume his new duties by July 1, Renault said in a statement today. The development of French production sites will be "a priority," the carmaker said. So, now, the #1 guy and the #2 guy at Renault are both named Carlos — because that won't get confusing fast.
---
6th Gear: The latest concept based on the Auto Union's little compact bottle of steak sauce is called the Audi A1 clubsport quattro Concept and it's essentially a preview of a new sticker package to be released in an upcoming accessories program for the A1 family of hatchbacks. But under the hood is something truly awesome. Sitting in a carbon fiber-encased engine bay is Audi's familiar turbocharged and direct injected 2.5-liter five-cylinder powerplant from the TT RS and RS3 Sportback. However, output has been lifted to a mind-blowing 503 HP, which peaks from 2,500 rpm all the way up to 5,300 rpm, while peak torque comes in at 487 pound-feet. All that power is sent to all four wheels via a six-speed manual gearbox and quattro permanent all-wheel drive. Daddy like.
---
Reverse:
⏎ Help tipsy-like-J-Kwon supermodel Estella Warren get home in this videogame. [MotorAuthority]
⏎ Nissan's St. Petersburg, Russia assembly plant will shut down for five days due to "lack of engines." Yeah, that's kind of a problem. [Automotive News]
⏎ Gov. Snyder to push public-owned bridge at Mackinac Policy Conference. [Detroit News]
⏎ Volkswagen may build the Tiguan compact crossover SUV in North America. [Reuters]
⏎ Subaru thinks the XV and Coupe will "double UK sales." Yeah, that shouldn't be too hard to do, considering their sales were like 4,000 the past two years. [Car]
⏎ Detroit's rebound is built on smaller cars. [New York Times]
⏎ Luxury-car sales starting to jingle again. [Dallas Morning News]
---
Today in Automotive History:
After two years of exploratory visits and friendly negotiations, Ford Motor Company signs a landmark agreement to produce cars in the Soviet Union on this day in 1929. Because in Soviet Russia, Ford produces you! [History]
Got tips for our editors? Want to anonymously dish some dirt on a competitor? Know something about a secret car? Email us at tips@jalopnik.com.
Click here for the Opposite Lock or Tips forums. Want a more "blog-like" look? Click the button up top next to "Top Stories."
Want even more Jalopnik? Want to know which of your friends read us? "Like" us on Facebook and follow us on Twitter.