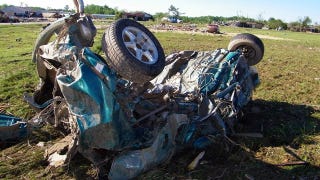 It's easy to think that a modern automobile with the latest in safety engineering would offer some protection in case of a tornado — but as this photo from last night's storms in Mississippi shows, nature's dangers are far greater.
An unknown number of people died in Smithville, Miss., Wednesday night from a tornado reportedy three-fourths of a mile wide. Authorities had cordoned off the town Thursday and set up a temporary morgue, allowing only rescue workers to reach the wreckage of many of the town's buildings.
Experts routinely warn that vehicles aren't safe if a tornado approaches, and that in some cases even lying in a ditch will be safer than taking refuge in a car on a barren road.