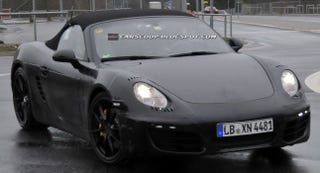 The third-generation Porsche Boxster will look a lot like the second-generation Boxster if spy photos from Carscoop are to be believed. New car, old look, still very Porsche.
Like the 911, the new Boxster is coming to evolve the brand. Expect the new entry-level Porsche sports car to bring with it the same pair of flat-sixes but this time with direct-injection and a PDK dual-clutch transmission. Also expect it to be slightly larger but also slightly lighter.
With each year and iteration the Boxster continues to transform from something once maligned as a hairdresser's car to a vehicle capable of ripping a driver's hair right out. See a shot of the new rear over at Carscoop.