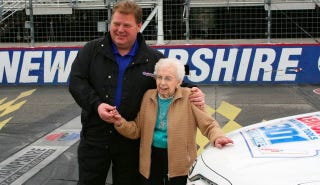 Rachel Gilbert, who is approaching her 100th birthday, got a very special birthday present yesterday. The die-hard Nascar fan lived out her fantasy Tuesday morning when she got to take a few hot laps at the New Hampshire Motor Speedway.
Gilbert's life in the fast lane accelerated in 1960 when she followed her husband and "the good ole' boys" to Loudon, N.H.'s, Bryar Motorsports Park. Nearly two decades later, while Gilbert's family was vacationing in Florida, they attended the Daytona 500 where she saw stock car legends Richard Petty and Bobby Allison fight to the finish. Then she was hooked. She's been a Nascar fan ever since.
"I wish I could have (reached 100 mph), you know, but I went up to 53 or 54," said Gilbert.
The longtime race fan was surprised with this once in a lifetime opportunity from her family and Gappens. When told she would be riding around the speedway in the pace car, she was ready to leave for Loudon immediately.
Included in her birthday package was a race car cake, an official LENOX Industrial Tools 301 hat, NHMS jacket and birthday card. Her favorite driver Carl Edwards even signed and sent an official crew shirt and birthday wishes.
Kristen Costa, who coordinated the event, said Gilbert had a lot of fun.
"She hasn't actually driven in about four or five years" said Costa, who added that Gilbert didn't even want to get out of the car after she was done.
Sadly, the car she was driving? A Toyota Camry pace car.
Well, that explains not only why she couldn't get it up to 100, but also her reaction after. It's not that she didn't want to get out of the car, it's that it wasn't stopping when she hit the brake.