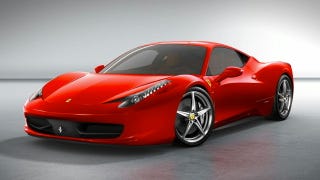 What's the hardest thing about owning a Ferrari? Telling your parents you're... Oh, wait, that's rollerblading. The hardest thing about owning a Ferrari is maintenance. Now the company's got a solution: the Ferrari seven-year genuine maintenance plan.
The global plan covers all scheduled maintenance for seven years — including parts, engine oil and brake fluid. The company even issues a certificate at plan's end that assures the car's been factory maintained when it inevitably hits the secondary market, after its owner loses his shirt in a leveraged exchange-traded fund deal. Even better, the plan covers each vehicle, extending to the guy who owns it subsequently. That means Johnny Short-sell gets the same benefits as the shirt-loser, within that seven-year span.
The plan, included at no extra charge, covers Ferrari California, 458 Italia and FF models.