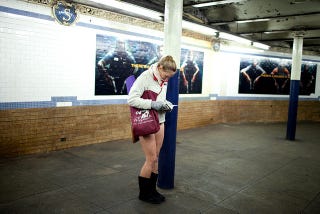 The flashmobbing guerrilla improvers at Improv Everyhwere successfully convinced 3,500 New Yorkers to ride the city's grimy subways without pants last week for their 10th annual "No Pants Subway Ride."
The pantsless display took place on chilly January 9, 2011. According to Improv Anywhere, they had 3,500 participants in New York and 5,000 worldwide participating in 48 other cities.
MTA estimates show the 3,500 pantsless New Yorkers marked a 40% increase in the number of half-naked people riding the subway on any given day.
[via Improv Everywhere]