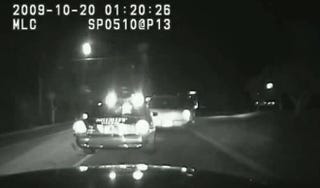 This video shows Hamilton County, Ohio sheriff's deputies beating and repeatedly tasering a 52-year-old diabetic suffering a low blood-sugar attack. A highway patrolman pulled the deputies off the man, but not before they dislocated his shoulder and elbow.
John Harmon, an African-American small business owner in the mostly white Anderson Township, was driving home when his blood sugar dropped to a dangerous level. He weaved into another lane and was spotted by a Hamilton County sheriff's deputy, who assumed Harmon was drunk.
They smashed Harmon's window, cut him out of his seatbelt, threw him to the ground and tasered him repeatedly. A highway patrol trooper arrived and intervened, later reporting the incident to his commanders. Even after learning of Harmon's medical condition the deputies filed charges against him.
After seeing the video above, which is mostly the sound of the incident with few visuals, the officers involved were suspended without pay for a short time and then reassigned to a different part of the county. Harmon is currently suing the sheriff's office and the deputies involved. [Cincinnati Enquirer via AutoBlog]