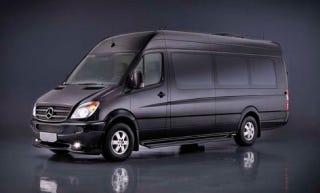 Until Mercedes builds the Sprinter Van Beethoven edition, Manhattanites will have to be satisfied with this rolling suite dubbed the Sprinter Grand Edition. It's available only at Mercedes-Benz Manhattan, which is fitting since this land yacht targets captains of industry.
This particular Grand Sprinter is equipped to be the perfect bug-out vehicle for a corporate task force facing an SEC swarm. It's got mobile office amenities like high-speed internet, satellite radio, digital satellite TV, 32" LCD flat-screen TVs front and rear, and enough room for break-out groups and a subsequent panel discussion on how not to run afoul of selective disclosure rules governing M&A protocol. It's powered by a 3.0-liter, 188-hp turbodiesel V6 producing 325 lb-ft at 1,400-2,400 rpm to whisk you away to the jet that will take your team to the Cayman Islands for some much-needed downtime before facing extradition.
Want one? You'll have to get it custom-built, which means you can substitute all that business gobbledy-gook for a stripper pole and Four Loko on tap, if you'd rather. It also could make a really nice fusion-style taco truck.
[via The New York Times]