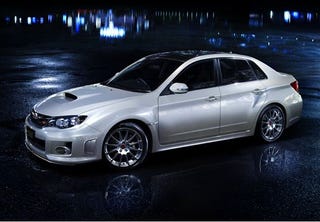 At the same time it announced the WRX STI Spec C's joining Subaru's permanent lineup, instead of being limited-edition only, Subaru introduced us to the WRX STI tS. Yes, it seems all is well in the Japanese domestic market.
Subaru based the Impreza STI tS on the 2011 STI, with the Subaru Technica International boys altering the suspension tune—front and rear springs and damper settings, and a front stabilizer bar—and stripping out some weight by subbing in a carbon-fiber roof and aluminum hood.
Inside, it's got new leather Recaro seats and other minor appointments
The tS also gets the JDM twin-scroll turbocharged 2.0-liter Boxer engine producing 304 hp and 317 lb/ft.
The Subaru Impreza STI tS price starts in Japan at just over 4.2 million yen, or just over 50 grand.
[7Tune]