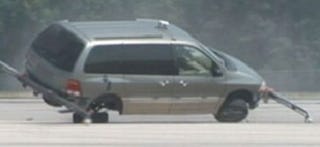 Last night, Ford received the full Brian Ross Investigative treatment in a segment over the company's tardy recall of 600,000 Windstar minivans. To summarize the tone: "This will be the first Christmas for Sean Bowman's family without dad."
The format for TV news reports on vehicle safety issues doesn't ever seem to change, with Ross and his team talking to the usual trial lawyer-paid safety advocates (Sean Kane, Clarence Ditlow) and then focusing on a family (the Bowmans) who lost a loved one due to a possibly similar defect.
Unfortunately for Ford, they followed the popular format of delaying the recall of a possibly unsafe vehicle and so the notice of a recall didn't arrive until after the family father was killed. There's also dramatic video of a National Highway Traffic Safety Administration test showing a Windstar minivan snap the rear axle at 35 mph and completely lose control.
A second story line is how slow NHTSA was to investigate the incident, despite hundreds of complaints. Haven't we been through this before?