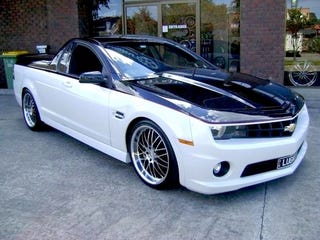 Australia has kept the flame of truck-cars burning bright well after it was snuffed out here. Now lucky Austrailans can graft a Camaro front end onto a Holden Commodore VE ute. God bless global platforms.
Built by a Victoria, Australia body shop, the kit can be applied to any VE Commodore including the SS flavor, since those Holdens share their basic underpinnings with the modern Camaro. We'd prefer a bed that had the Camaro taillight treatment as well.
Actually, you know what? We would settle for the whole damn thing.