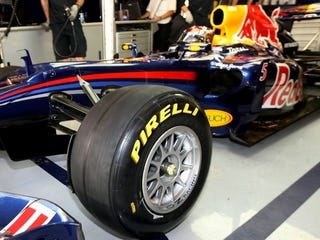 The 2010 Abu Dhabi Grand Prix marked not only the end of a mesmerizing Formula One season but also Bridgestone's participation in the sport as a tire supplier. From 2011 on it's all Pirelli all the time.
Tire monoculture wasn't always the norm in Formula One. Tire battles used to rage, most recently between Michelin and Bridgestone before the latter became the sole supplier of racing rubber for the sport in 2007. Tires could well make or break a championship campaign.
Tire wars will unfortunately not return for 2011, but Pirelli will replace Bridgestone to the great delight of every fan of yellow Italian tipography and high class pin-up calendars. In fact, the teams never left Yas Marina Circuit after the season concluded there on November 14 but have stayed on to give the new rubber a first track test.
While they have been absent for 19 years, this is far from Pirelli's first foray into Formula One. At the very first Grand Prix, Nino Farina's winning Alfa Romeo was wearing Pirellis. Over 199 subsequent Grands Prix, Pirelli-shod race cars were driven to another 43 wins, most recently by Nelson Piquet at the 1991 Canadian Grand Prix:
Photo Credit: Andrew Hone/Getty Images, Pascal Rondeau/Getty Images