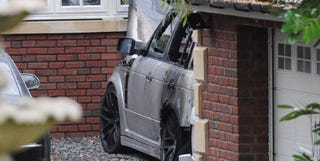 This post, written by Richard Gilzene, is republished with permission from The Spoiler. Go there often if you like soccer stuff.
As if things weren't bad enough for Andy Carroll, having been made to shack up with Newcastle teammate Kevin Nolan (who looks like he stinks of BO) after being released on bail for allegedly hitting his ex-girlfriend, the striker's Range Rover was found burnt to a crisp yesterday in a suspected arson attack.
UPDATE: Apparently some naughty graffiti was also daubed on Nolan's garage. Also, Carroll's car had an inbuilt "games console." No word on whether it was PS3 or XBOX.