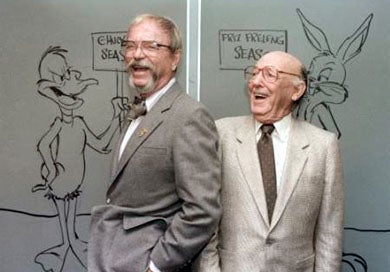 One of the earliest and most successful animated directors, Friz Freleng helped create Porky Pig, Bugs Bunny, Tweety/Sylvester, and many others. More than just creating famous and beloved characters, he helped create the idea of cartoon figures with actual character. Prior to many of his creations, most animated animal figures were anonymous archetypes. But Bugs Bunny is a person, with an individual style and way of action. We expect Bugs Bunny to be a smart, mischievous transvestite more than just a rabbit. He was involved in animation all his life and helped produce the crossover hit The Grinch Grinches The Cat In The Hat, where we see the Grinch team up with another classic Seuss creation. Sadly, he's not around for Cheeselap's version of the UAW Golf Resort film.
It's got union-made carpets for union-made feet. And a union-made boiler for union-made heat. There's a union-made court and a union-made pool, for union-made water and union-made fools. There's union-made bridges and union-made beer, for union-made shoes and union-made fear. There's union-made golf with a union-made head. And big union fires for union-made dead.
Suess got really weird there towards the end.