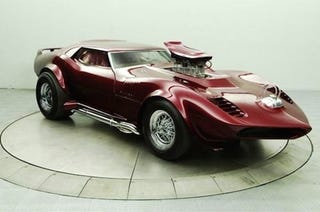 Here's what can happen to a 1968 Chevy Corvette after 10,000 hours of obsessive fiberglass and mechanical work. And it can be yours for $10 bucks shy of $80,000.
This is "Roman's Chariot," a show car from the 1970s built by Ohio customizer Jerry Roman as a calling card for his business. What started as a small project for a customer turned into a complete metamorphosis involving 60 different custom body pieces. From the nose-mounted moon tank to the hood tach and back to the molded spoiler and parachute, the Chariot wears every styling fillip of the era like Pam Grier in "Coffy."
Another restoration shop in Ohio spiffed the Chariot back into show form, and now has it up for sale for $79,990. For the complete rundown, go here. And if you want to tap Jerry Roman's skills, he's still available.
(Thanks to Yoav for the tip!) [via Jameslist]