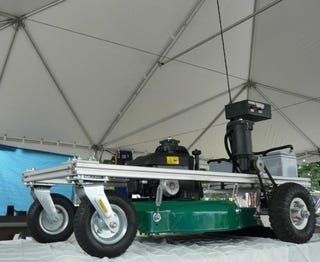 Remember Honey I Shrunk The Kids? Of course you do. How about crackpot inventor Wayne Szalinski's awesome radio-controlled lawnmower? Well, Chuck Copeland of Royal Oak, Michigan's built a sleeker version and this one plows driveways too.
Instead of nearly pureeing miniaturized neighbor kids, this mower turned R/C experiment does the lawn while you sit on the porch sip sun tea. Snow-Mow Bot uses a pair of independently controlled wheelchair motors powered by a pair of 12V sealed lead acid batteries to drive the rear wheels independently, delivering both locomotion and steering. The mower deck is just a standard Weed Eater lawnmower attached to the extruded aluminum frame, the wheels are from Harbor Freight, of course.

But wait, there's more! Not only does it let you mow your yard from the air-conditioned comforts of your home, it's also got a 36" plow blade which can be mounted underneath for snow removal in the winter. Brilliant!