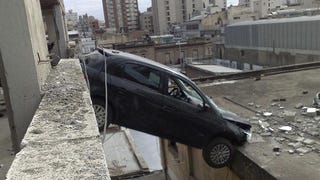 Juan Vera took his brand new Volkswagen Gol to the second floor of an Argentine parking garage in order to learn how to drive it. Bad idea. Here's a gallery of the world's worst driving lesson.
Trashing a brand new car is never fun, but Juan Vera should just be pleased he was lucky enough to accidentally drive off the side of a parking garage in Cordoba, Argentina that faced another building. The details of exactly what Vera did to strand his car between a roof and the parking garage are hazy, but it sounds like he was on the bottom floor of the garage before getting lost and driving up the ramp to the second floor.
Since the man was learning to drive it's possible there was a gas/brake inversion. At least there was enough speed to plant the front bumper perilously along the edge of the adjoining roof. No one else was in the car at the time of the accident, and Vera was rescued by firefighters. The car wasn't so lucky. It sat there for more than a day until it was finally rescued.
Seriously, next time — start the process in a regular, flat parking lot.
(Hat tip to Pat!)