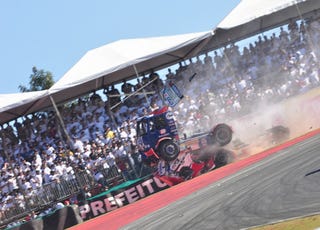 What the tractor trucks of the Brazilian Formula Truck series lack in speed they make up for in spectacular crashes. Watch as the driver of this Ford crashes into a competitor, shearing the entire cab off his opponent's truck.
This amazing crash occurred Sunday in Sao Paulo in one of the stops on the Brazilian Formula Truck series, which pits tractor trucks from Volkswagen, Scania, Mercedes, Volvo, Iveco, and Ford against each other on the track. Bruno Junqueria in his Ford clearly loses control of his car and, lacking brakes, unintentionally uses Diumar Bueno's Volvo to stop.
Bueno easily hops out of what's left of his cab but Junqueria becomes trapped, upside down, in his Ford. Workers eventually free him and both drivers walked away from the incident with only minor injuries.
[FormulaTruck via MongoSentinal]