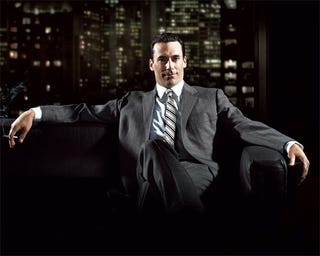 If you're like many of us, you happily lined up to watch the fourth season of Mad Men kickoff. In case you missed it I won't give anything away, but the episode does open with manly adman Don Draper chatting it up with a reporter for Ad Age who, we find out, has a wooden leg. Silver fox Roger Sterling greets him and then, when the journalist is out of earshot, complains "They're so cheap, they can't even afford a whole reporter." The folks at Ad Age found the portrayal a touch unrealistic. On the other hand, Holywood could do worse as Buick61 points out.
GOD DAMMIT HOLLYWOOD:

Why destroy Chargers and FIRST GENERATION RIVIERAS (Of all cars?) And make us look at Nicholas Cage on top of that insult.

There are 10,000,000 Camrys in this country that you could just destroy until your testicles finally descend and we'd all be better for it. Thank you
Let's hope they're just blowing up models.