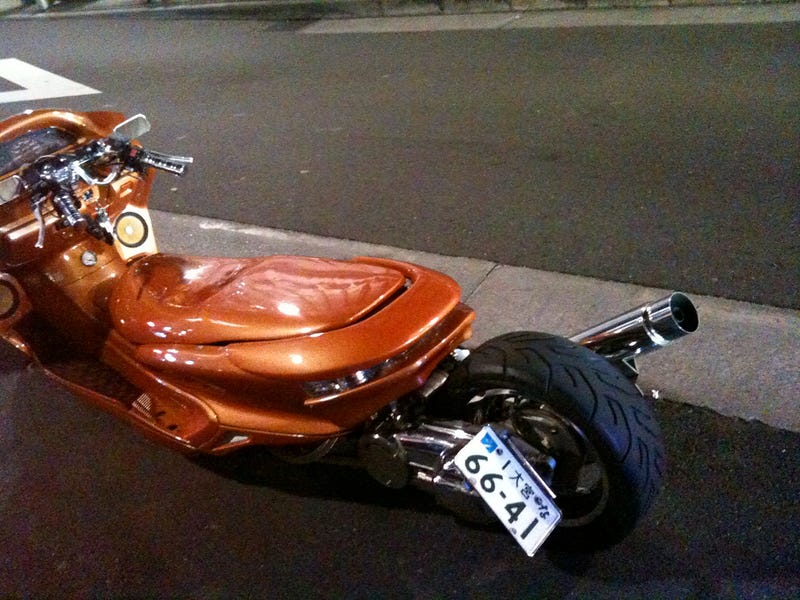 Hashiriya? Bosozuku pipes? Togue racing? How unimaginative. The cool new thing in Japan is scooters. Big scooters. Big scooters with an attitude.
A word on that cool new thing part before the wicked hydraulics: a Japanese subculture which has been documented in English is by definition out of date. As for how much, you'd have to be Japanese to know and none of us at Jalopnik are, although your humble correspondent comes from a country where people write their names Japanese style (family names first). That said, video:
Big scooter subculture is apparently about taking large cruising scooters and modifying them with fiberglass, hydraulics, mad exhaust pipes, and neon tubes until you end up with something which could be cast in a Hello Kitty remake of Aliens. Complete with very serious Japanese dudes riding them.
It is all very baffling from outside of Japan, a bit like, yes, the aesthetics of bosozuku pipework. Meanwhile, the cutting edge in Tokyo is probably closer to fitting scramjet engines to NSX's. The half-life of this blogpost is thirty seconds.
More big scooters are on offer in a gallery by Sean Wood at CNN GQ.
Photo Credit: Sean Bonner, Sean Wood. Hat tip to Marton Bede.