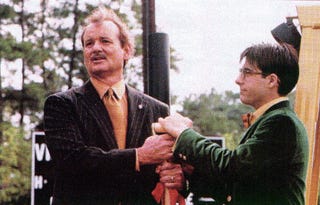 There's a great moment in Wes Anderson's film Rushmore when Bill Murray's character is introduced with this great speech: "You guys have it real easy. I never had it like this where I grew up. But I send my kids here because the fact is you go to one of the best schools in the country: Rushmore. Now, for some of you it doesn't matter. You were born rich and you're going to stay rich. But here's my advice to the rest of you: Take dead aim on the rich boys. Get them in the crosshairs and take them down. Just remember, they can buy anything but they can't buy backbone. Don't let them forget it. Thank you." For some reason, PotbellyJoe's COTD in Sam Smith's Porsche 917/10 piece reminded me of this.
When I look back on all the crap I drove in high school, it's a wonder I like to drive at all...
You just get those Ferraris in your sight and you take them down.